Posts by Category
Past Blog Posts: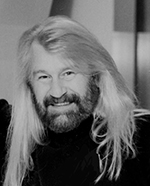 Tristan Robin Blakeman, Connecticut, USA
I am the world's oldest child, still getting the same thrill I got as a boy playing with colors, shapes and textures. I loves to create miniature stages, merry-go-rounds, dancers, faeries, storybook characters and tributes to old movie stars. Long believing more is more when it comes to color and dazzle, I think I would be happy if I were a wedding cake! Often I prefer working with my dog, Brando, snuggled at my feet. When it comes to collecting, favorites are "Wizard of Oz" and "Alice in Wonderland" memorabilia, as well as water ballet portraits of Esther Williams. Lastly, I live life according to my credo to the fullest: "Sparkle! Shimmer! Glimmer! Gleam!"
To learn more about me and to see more of my art work, feel free to stop by my blog.