Posts by Category
Past Blog Posts: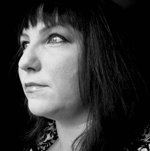 I am a professional graphic designer and formally trained artist who is absolutely passionate about making stuff. Whether it's upcycling, painting, mixed media, sculpture, assemblage, I jump in and create with positive, joyful abandon.
After 20+ years in the big city, I moved into a dear 100+ year old farm house in Brighton, Ontario. I work from a home based studio, dubbed Pixie Hill, which has proven to be an endless, boundless, source of inspiration and happiness.
My work is heavily influenced by make-believe, magic, folklore, faeries, nonsense and nature. My creative goal is to capture the little bits of magic I see in the world and convince other people to see them too. Setting someone's imagination alight, inspiring other mess makers… these are some of my most important achievements.
Some collage sheets designed by Nichola are under the name Pixie Hill.