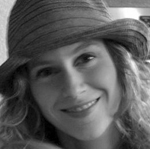 I am wacky, fun, caring and a sponge for all things creative. I graduated from Auburn University and joined my Pilot husband on a whirl wind tour of our country adding two darling girls and picking up art supplies and friends along the way.
Currently we reside in Sweet Home Alabama where I spend my spare time working on and in my dream studio, concocting fun cupcake combinations and playing on my In-Laws Farm.
I stumbled across Alpha stamps six years ago when in search of a Pierrot Stamp. I've been hooked ever since and impatiently await new items and creative ideas that I can sink my scissors into. The ladies of Alpha Stamps have helped me become the eclectic artist I am today. To discover more of my charming personality visit my blog.
Some collage sheets designed by Caroline are under the name Glitter Tart Designs.