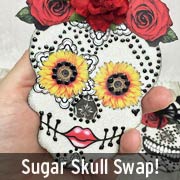 A few quick notes before getting to the spooktacular artwork and creepy new goodies:

– The Alchemy Gift Sheet announced in last Thursday's newsletter is still on offer! This mini collage sheet is FREE for all orders, regardless of order size!

AND, don't forget there's still time (but not much!) to enter the Chipboard Sugar Skulls Swap! Sign up by Monday, August 3rd.


NEW Cemetery Kit

This month's kit is The Cemetery! It's feeling more and more like Halloween (our favorite season). There are supplies here to get you started on a spooky scene, from cemetery silhouettes, miniature coffins, a gothic fence, black cat and bats, and a silly (glow-in-the-dark) zombie finger puppet!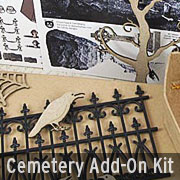 And, as the Design Team often receives a wider group of products to play with around the monthly themes, I've gathered together everything they received (beyond what's in the regular August kit) and I've put together a Cemetery Add-On Kit. So if you want more collage sheets (coffins and tombstones), paper mache boxes, spider webs, and another fence — all with one click — here's your chance.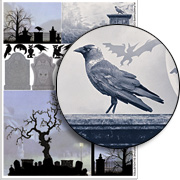 Back to this kit, let's start with the Cemetery Tombstone Silhouettes Collage Sheet. The sheet includes 3 spooky scenes that would fit an ATC (and one bigger image that has tree stumps around a bare tree — and some raven, cat, owl and bat silhouettes that could sit on those stumps or sit in the tree branches).
I had an idea for tombstones (about 2″ tall) that could stand up in a shadowbox scene, which led to finding the Narrow Blank Matchboxes (6 in a reuseable kraft box are included in the kit), AND which led to the idea of making double-use of that matchbox (to back the tombstones as a stand and to hide wires in… if you go the extra step and use the new Tiny size of Red LED Demon Eyes to make scary red eyes for the creatures on the tombstones).
Check out Teri Calia's Snapguide for a step-by-step tutorial on how to wire a tiny tombstone with LEDs.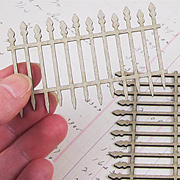 Next up in this kit: a Mini Chipboard Gothic Fence. Almost 3″ wide x 1-3/4″ tall. Perfect size for an ATC or use it with the box that the Narrow Blank Matchboxes come shipped in.
More info is on the Cemetery Kit page.
Oooh! And artwork using a mix of both of today's kits is below! I love both projects and how each artist created something different with the same materials.
You can read more about Teri's Creepy Goblin Cemetery project on her blog post. And/or see the goodies Teri used in her supply list.
And you can read more about Shannon's projects (yes, two!) on her blog post (and see what party is going on inside that house)! And/or see her Boneyard Bash supply list.
But don't forget to come back and enter the Giveaway, below, as it includes supplies from BOTH of today's new kits!



Hooray for the Cemetery Giveaway!
I started with parts of BOTH of today's kits: Cemetery Kit and the Cemetery Add-On Kit.
Then I added a mix of old and new goodies that caught my eye:
– Haunted Hollow Wrought Iron Fence Scrapbook Paper
– Tiny Oak Leaf Garland
– Leafy Green Underbrush
– 40x30mm Halloween Owl Cameo
– 40x30mm Bronze Oval Setting – Scallop Edge, AND
– omg i hate customs sometimes! A new Bronze Dragon Pendant, which would have been perfect if it had arrived just one day earlier to be in Thursday's newsletter with all of that alchemy stuff!
To enter the Cemetery Giveaway drawing all you have to do is leave a comment on this blog post TODAY or TOMORROW (the deadline is 11:59 pm PST, Monday Night, August 3, 2015. AND tell me either (or both): what parts of Shannon's and/or Teri's artwork from today's newsletter you like best and why.
Don't forget to leave your (hello! correct) email address, too, so I can contact the winner; your email address does not need to be made public. Note: I'm offering free shipping, too, but only within the USA. International shipping will still apply.
Please be patient! Spammers try to post crap here a lot so comments are moderated. So if you don't see your post in the comments section, be patient and check back in a few hours before re-posting it, please!
After midnight, I'll randomly pick the winner (via Random.org). So make sure to check back to see who won! And check your mailbox on Thursday morning for the next Giveaway and Newsletter!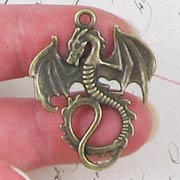 Hey, who won the Alchemy Giveaway? That would be Francine Perri! (And she commented: "I love everything. I would use them in my collages.") Please check your email for my message about getting your mailing address.
And we had a special 2nd prize last Thursday: for most creative project idea using the parts in the Giveaway. And the winner is Kim! (And she commented: "I am drawn to the dragons. Dragons and coffin = viking coffin. I would put the coffin in a a forest setting.Lots of twigs small stones and greenery and crows standing watch. The coffin would be decorated to look like wood, and adorned with a dragon, sunburst, a shield and sword. To honor a great viking.") The prize is both of Laura's new Alchemy Collage Sheets. Please check your email, too.
Posted by Leslie, August 2nd, 2015