First, stay safe all you southerners (and about a third of my Design Team (!)) who are running hither and yon trying to keep out of Irma's path. And before i turn this intro over to Design Team Coordinator Miz Bella (Kim Ayers), a quick note: some cute Halloween things have just been added.
Ok… last thing before the beautiful eye candy: the Halloween Charms Sale AND Halloween-themed FREE gift with all orders (both annnounced on Thursday), are both ending Monday night (September 11, 2017). More info and a photo of the gift kit are on Thursday's blog post.

Guest Designer Jennifer Osmond Hatt
We are beyond thrilled to have Jennifer Osmand Hatt as a Guest Designer for Alpha Stamps this month. Jennifer creates miniatures that are absolutely magical! They're so realistic you feel like you could just walk right into them and then start poking around.
"Since I was a small child, miniatures have always fascinated me. Because of this I tend to see the world through a miniature lens and love working as a Miniature Artist working in 1/12, 1/6 and 1/24 scale. I thank the Lord for my Gift of loving miniatures and having the privilege of being able to do what I love. My background is in Purchasing, Merchandising, Managing and I am a trained floral designer. Many of my creations have been shown on TV and In major store windows in the US as well as in various magazines.


"I strive for attention to detail, authenticity and realism in all my displays, and love vintage and antiqued items. Paper is my favorite medium; I am in awe of how many ways paper can be manipulated and distressed to give a vintage feel to any piece. Etsy allows me to work from home and still be around for my children but also to have a creative outlet.
"Creative inspiration is very important, to be able then to translate that to an artistic piece is a fascinating process. When you are working at your best you are lost into the piece you're designing, it gives you an amazing sense of freedom and fulfillment."
Jennifer created a French Antiques Shadowbox (using the Large Frame Shadowbox as the base) that immediately draws you in and you find yourself wishing for items in the shop to decorate your home with! [Note: that shadowbox is approx. 7-5/8″ tall x 9-5/8″ wide x 4″ deep, so the House Shrine with Doors – Large would be a similar size to substitute, as the main "room" in that shrine is 8″ tall x 10″ wide x 4″ deep. The Open Front Room Box would also work well, as the inside space is 10″ tall x 10″ wide x 4″ deep.]
"The Wrought Iron Gates in this photo are so beautiful and I love the old world look that they have. (They are sturdy and stand up well on their own.) A perfect find for someone shopping in my Miniature Vintage Shop! [Note: see the Giveaway below for a photo.] Vintage architectural prints are displayed on the walls and the miniature resin planters have been painted with acrylic paint to look as though they are zinc."

I love how Jennifer cut the 3-Panel Hutch in half to fit on top of of the 3 Drawer Unfinished Wooden Side Table to make an entirely new piece of furniture. Jennifer includes a mini tutorial, too.
Wouldn't you love to have some of those books and prints that are on the table and in the hutch for yourself in full size? Guess what? You can have those prints and books because Jennifer created a Vintage Prints and Architectural Drawings Collage Sheet! I know, they're not full size that you could decorate your home with but they're the next best thing.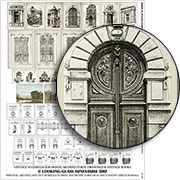 "These doors are one of my favorite things about this display. I used the Old Doors Collage Sheet to make them. I resized them to fit my needs for this display and added Mini Chipboard Wrought Iron Flourishes Set components to give the door a more realistic look."
The doors turned out gorgeous and look realistic, don't you think? (See the wide photo below.) Plus Jennifer again includes photos showing how she made the "wrought iron" door inserts in her blog post.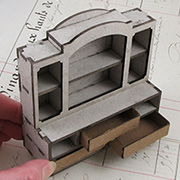 "The topiaries in this picture were designed by using the following materials: Antiqued Large Victorian Planter, Antiqued Medium Victorian Planter, Leafy Green Underbrush, Styrofoam Balls, Sandtastic Brown Coloured Sand, foam, and acrylic paint."
If you head on over to Jennifer's blog you can find out exactly how she created the miniature topiaries, as well as many more pictures and details on her French Antiques Shadowbox. And here's a link for her Supply List.


Hooray for the French Antiques Shadowbox Giveaway!
I picked out some supplies used in Jennifer's artwork to include in today's Giveaway:
– Large Frame Shadowbox
– Old Doors Collage Sheet
– Vintage Prints & Architectural Drawings Collage Sheet – New!
– Mini Chipboard Wrought Iron Flourishes Set
– Wrought Iron Gate for Arched Shrine Shadowbox
– 5/8 Inch Mini Resin Planters
– Tall Wooden Fruit Crate with Decal
– Tiny Number Plates White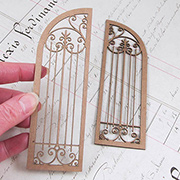 Just click on this Supply List link for photos and links to everything in Jennifer's artwork, including all of the Giveaway items listed above!
To enter the French Antiques Shadowbox Giveaway drawing all you have to do is leave a comment BELOW on this blog post TODAY or TOMORROW (the deadline is 11:59 pm PST, Monday Night, September 11, 2017).
AND tell me: What will you make with all of these goodies? OR: What is your favorite technique from Jennifer's blog post?
Don't forget to leave your (hello! correct) email address, too, so I can contact the winner; your email address does not need to be made public. Note: I'm offering free shipping, too, but only within the USA. International shipping will still apply.
Please be patient! Spammers try to post crap here a lot so comments are moderated. So if you don't see your post in the comments section, be patient and check back in a few hours before re-posting it, please!
After midnight, I'll randomly pick the winner (via Random.org). So check your mailbox on Thursday morning to see who won and for the next Giveaway and Newsletter!
Hey, who won the Strange Kidlets Giveaway from Thursday's newsletter? That would be Tara K! Congrats! Check your email for info.
Posted by Leslie, September 10th, 2017