Eeek! It's October! I was thinking there haven't been enough potion bottles (tiny ones) in this lead-up to Halloween. So I've picked out TWO miniature projects that use lots of bottles…
A quick note: beside putting everything in both supply lists on sale, I added a few possible substitutes to the sale, too! AND everything NEW mentioned in this newsletter has also been added to the sale collection! (More info below.)

A Wizard's Potion-Making Table
Ooo! What a great little 1:12 scale table for a wizard's office. The finished size is just 5-7/8″ wide x 3-1/8″ deep 2-1/4″ tall. (If that little photo below of me holding one wasn't there, I bet you'd think Teri Calia's artwork at right was much larger!) Note the double trestle base, and the extra wings to give the gryphons more dimension.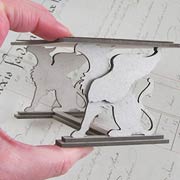 As Summer nears I always start thinking about Halloween because I love making creepy, spooky, magical and/or fantastical art. So, a couple of months ago, I started designing a Dragon Table that sort of morphed into the Gryphon Table you see here. The table is really easy to glue together and would be fabulous in a Medieval dungeon as well as in a modern library.
I painted my table black and dry brushed white over the top to add a bit of depth and interest.
Check out Teri's blog post for more info and photos. Note: use my links here for the supply list as the site moved since Teri posted that artwork.


NEW Miniatures and in today's sale, too!
Note that Mini Black Plastic Cauldron at right — so cute! It's a wee thing (1/2″ tall without the loops) with a chunky little shape. I can imagine it in all kinds of Halloween projects (including a wizard's table or an apothecary cabinet).
I've added ALL of these new items to the sale collection! See below for more info on the COUPON sale!


FREE Gift with Orders
A Bottles for Potions Gift Kit is FREE with all orders placed today through Wednesday (ends at midnight October 4, 2023)!
These bottles are available in limited quantities (in case you'd like more of any/all). Plus they're on clearance AND included in the sale collection! (So double savings when you use the COUPON.)
– Square Glass Bottle with Cork
– Resin Olive Oil Bottle
– Large Brown Sake Bottle
– Green Soju Bottle
– Plus 1 wine bottle (random color) from the (sold out) resin wine bottles. See the inset pic at far right.


A Wizard's Apothecary SALE (and the 2nd art project)

Rhonda Thomas's Don't Go Near the Apothecary uses the Apothecary Cabinet for Smaller Bottles to great effect — just check out all of the bottles and spooky supplies!
Rhonda's post includes lots of photos (including a drool-worthy photo of a corner of her studio) and tips on laying out all the pieces from this new cabinet. Note: use my links here for the supply list as the site moved since Rhonda posted that artwork.
"Don't let all of these pieces intimidate you. It really is quite simple to put together. The first thing I always do is lay out all of my pieces, like a puzzle, so that I am sure I know exactly which piece goes where."

I've already highlighted some items above from Teri's supplies; here are some highlights from Rhonda's supplies, shown below.
AND the substitutes I've added to the sale:
– Half Scale 2-Step Stairs (can be used on the table to display bottles, like in Teri's project)
– 15mm Tall Glass Jar (needed a wide-mouth jar option)
AND I added the rest of the Can & Bottle Blanks to the sale collection! That's over 20 more bottles!
Use coupon BOTTLES when checking out to get an additional 20% off on EVERYTHING in this collection! That's 20% off beyond current sale prices! Over 70 items!
The sale ends WEDNESDAY NIGHT, October 4th at midnight PST.
Posted by Leslie, October 1st, 2023