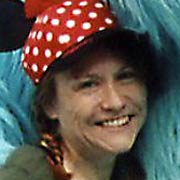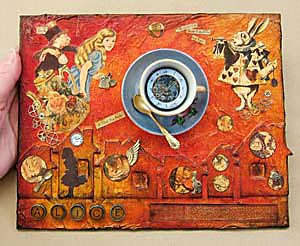 Teri Calia is a professional illustrator and graphic designer whose work can be seen in museums, zoos, and humane societies across the United States. Teri's artwork has been commissioned by many prestigious organizations such as NASA, the American Museum of Natural History in NYC, The Tech Museum in San Jose, Zoo Atlanta, and Jefferson National Expansion Memorial in Saint Louis. Teri is also quite happy to work part time at Alpha Stamps!
As you can see by "Is It Tea Time Yet?", pictured above left, Teri enjoys letting her muse out to play with mixed media & collage! Care to guess what her favorite product is at Alpha Stamps?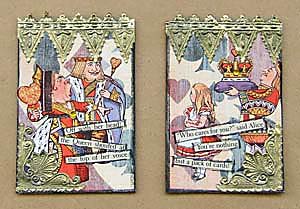 The collage sheets! Teri says "the collage sheets provide her with the most variety in both subject and medium." Teri also recommends trying out the clear sticker versions of the collage sheets.
To create "Is It Tea Time Yet?" the following collage sheets were used: Alice Covers, Young Alice, Tenniel's Alice, I Wonder, The Red Queen, and Alice: The Trial.
More of Teri's creations can be viewed in the Alpha Stamps blog or on her blog or in her Etsy store. And some collage sheets designed by Teri are under the name Catnip Designs.
Posted by MizBella, September 17th, 2008