Hoorah! Beside both sets of the Gothic Stories 12×12 Paper Sets being back in stock (used throughout Laura Carson's Edgar Allan Poe Study Book Nook), there are 3 new related papers!
All 3 of the new sheets are A4 size (2 on heavy cardstock and one on rice paper). And all have good spooky images for Halloween (or any time of year) — and in tiny sizes.
Plus that brocade sheet (on rice paper) has small prints that would work well as upholstery on 1:12 scale cushions.


New FREE gift with all orders!
We revisited the Ghoul & Sons Chemist Shop a few weeks ago (part of Design Team Member Laura Carson's (multi-year) Grimsley Village Halloween project).
Today we're looking at the Mad Scientist Laboratory! It's got tons of bottles and creepy things on the shelves…
But before today's artwork: Square Glass Bottle & Potion Labels: FREE with all orders placed today through Saturday (ends at midnight October 1, 2022)!
That's a Square Glass Bottle with Cork and the mini collage sheet shown at right with labels sized for that size bottle (printed on 24lb paper so easier to glue one of those labels to your bottle)! There are tons of labels (from poisons to potions and some snake oil remedies from about 130 years ago).
Note: a (very few) of the labels were borrowed (at the correct size for that bottle) from the Tiny Magic Books & Potion Labels Collage Sheet, other labels at slightly larger size can be found on the Labels for Mini Potion Bottles Half Sheet or Snake Oil Labels Collage Sheet.
I also made a new collection from the supply list from Laura's project — and put it all on Sale plus a few extra items (including the square bottle in this gift set)! More info below!

Mad Scientist Laboratory by Laura Carson!
It all starts so subdued (in a Laura Carson over-the-top kinda way)… with a dark and stormy night, complete with lightning. With pumpkins at the doors and vines trailing up the walls of a Mad Scientist Laboratory! Note that the house shapes from the Large Haunted House Chipboard Set (recently back in stock) are the walls for this building.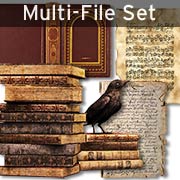 It's sort of a mix of Dr. Frankenstein's laboratory, meets old 50s and 60s Science Fiction movies with a touch of steampunk.
Yes, indeed! Laura has created 2 collage sheets (one of those two is actually a set) AND 2 large sets of digital images… Gizmos and dials, chemicals in bottles, signage, old books and papers, and parchments with odd scientific plans.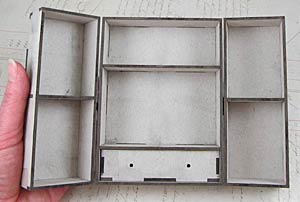 And if you look below at that wider photo, over on the right side of the room is the Apothecary Cabinet for Larger Bottles! Filled to overflowing with books and bottles (including 3 colored bottles sitting in the back in stock Flask Stand). The "larger" in the name means bottles up to 2″ tall (not that large, but pretty large compared to dollhouse scale).


There's Dr. Derange himself, over on the far left… in front of a table and blackboard filled with formulas and experiments. The blackboard and the drawings on the table (and one leaning against the table) are part of the Mad Scientist Laboratory Collage 2-Sheet Set (along with tons of beakers & bottles and some crazy experiments).
All of the images from the Collage Sheet Set are included in the related Mad Scientist Laboratory Digital Download Set, plus lab machines, metal panels, plasma rods, switches, control panels (and those bats on the table and the lanterns used on the outside of the building).
See everything Laura used in her Supply List. More info & photos, AND a video tutorial are in Laura's blog post.



More New or Back-in-Stock Items
Beside all those cool Gothic Stories papers (way back at the top), the items below are either in Laura's project or would be perfect for a dark and story night…


NEW: Mad Scientist SALE
This is a coupon sale in honor of Laura's project above!
Bonus items added to the sale: ALL EIGHT of the items shown below and at right! In addition to picking out some substitutes for sold-out products (from Laura's original supply list), I also added some general "mad scientist" items (and that square bottle that's part of the Free Gift).
Use coupon MAD-LAB when checking out to get an additional 20% off on EVERYTHING in this collection!
The sale ends SATURDAY NIGHT, October 1st at midnight PST.
See the entire sale collection here! Over 40 items!

Posted by Leslie, September 29th, 2022