Do you remember Design Team Member Laura Carson's amazing The Streets of Paris series? It was a series of post leading to building a group of miniature Parisian shops in 1:12 scale. You can see all the posts from the series.
Well, today's new miniature perfume bottles (and mirror material) reminded me of her post that covered making tiny perfume bottles (and related items like cosmetics) for her Maison de la Mode – House of Fashion Boutique. (Click that preview photo at left to jump ahead to her boutique.)
So today I'm focusing on "just" the perfume and accessories post from that series. Plus I made a new collection from Laura's supply list — and added a bunch of related miniature perfume items (including 3 that are new today — and put them all on Sale!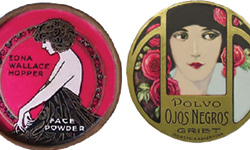 So many options to choose from! I decided to begin this mini-tour of Laura's accessories with those deco-inspired cosmetics tins (and compacts) above! They are made with polymer clay and labels from the Mini Cosmetic Labels Half Sheet!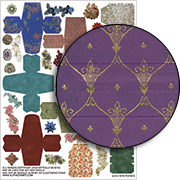 I also spy a big group of bottles made from beads (on trays that were featured in the chocolates post) and the pre-made Mini Wooden Make-up or Jewelry Box. Oh, and in the foreground, a fancy box made with one of the Black and Silver Carved Saucer Beads.
There's (another) collage sheet used for these miniatures: Mini Purses Collage Sheet (and coordinating Digital Images Set), both made by Laura! This sheet contains ten easy-to-fold and assemble purses along with images like beaded appliques and jeweled bits that can be used to dress up the purses.

Moving on to the next wide photo below: look at all those lovely perfume bottles! There is a multitude of shapes and sizes in today's post. I'm going to point out the colorful bottles on the glass display rack: those are made from rectangular glass beads with tiny labels and a tinier bead on top (as the lid or stopper).
Read more (and see a video tutorial) in Laura's blog post. I didn't even get to the shoes!


A Flurry of New & Back-in-Stock Miniatures!
Those top 3 are included in the sale collection! (More info below.) And tons of things I've been awaiting came back in stock, so check this link to see everything this week.


NEW: Streets of Paris Perfume SALE
This is a custom collection in honor of the new perfume bottles and includes everything in Laura's supply list (plus some related bonus items)!
Highlights of a few of the bonus items are at right or below. Here's a link to all the extra items in the same that are NOT in Laura's supplies (lots of goodies, including more perfume collage sheets, tiny tassels & more beads to make perfume bottles).
Use coupon PERFUME when checking out to get an additional 20% off on EVERYTHING in this collection! That even includes items on clearance!
The sale ends TUESDAY NIGHT, March 15th at midnight PST.
See the entire sale collection here!

Posted by Leslie, March 13th, 2022