Remember Design Team Member Laura Carson's chocolates & sweets from a couple week's ago? That was the second post of a series.
Today's project is the third of many that will roll out over the next few months… all leading to building a group of miniature Parisian shops: The Streets of Paris. There will be a chocolate shop, a cafe, clothing boutique, flower shop, bookstore & pharmacy. I can't wait to see all the details! More info here.
So, on to today's project: Purses, Shoes, Perfume Bottles, Cosmetics & Jewelry. Whew! Laura has made a huge selection of options. And she has displayed them in some of the glass cabinets from week 1 of this series.
And the new products and techniques can be used on all sort of projects (whether making miniature accessories or not)!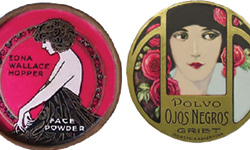 So many options to choose from! I decided to begin this mini-tour of Laura's accessories with those deco-inspired cosmetics tins (and compacts) above! They are made with polymer clay and labels from the new Mini Cosmetic Labels Half Sheet! (More on that collage sheet below, as it's also FREE now through Monday!)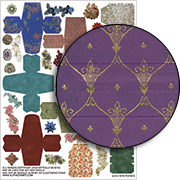 I also spy a big group of bottles made from beads (on trays that were featured in the chocolates post) and the pre-made Mini Wooden Make-up or Jewelry Box. Oh, and in the foreground, a fancy box made with one of the Black and Silver Carved Saucer Beads.
There's (another) new collage sheet today: Mini Purses Collage Sheet (and coordinating Digital Images Set), both made by Laura! This sheet contains ten easy-to-fold and assemble purses along with images like beaded appliques and jeweled bits that can be used to dress up the purses.

Moving on to the next wide photo below: look at all those lovely perfume bottles! There is a multitude of shapes and sizes in today's post. I'm going to point out the colorful bottles on the glass display rack: those are made from rectangular glass beads with tiny labels and a tinier bead on top (as the lid or stopper). There are 3 new colors in that popular size of glass beads.
Read more (and see a video tutorial) in Laura's blog post. I didn't even get to the shoes!
You can see the full supply list for all of the today's projects (or check Laura's blog post for the same list divided into sections).

New Goodies! – ALL on Sale!


Eau de Toilette Silver Perfume Charm

12x8mm Ruby Red Glass Rectangular Beads

12x8mm Aqua Blue Glass Rectangular Beads

12x8mm Pink Glass Rectangular Beads

Head Over Heels Shoe Buttons

Mini Purses Set Download

Posh Purses Buttons Set

Mixed Set of Doll Purses

New Sale and New FREE Gift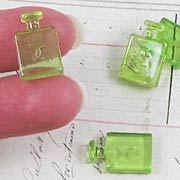 Everything in the Lucite & Resin Embellishments section is on sale! (That includes lots of the perfume bottles used in Laura's project!)
Over 50 items! Go check it out!
And there's a new FREE Collage Sheet provided by Laura!! The Mini Cosmetic Labels Half Sheet shown at right is FREE with all orders placed now through Monday, April 2nd 2018! Lovely label designs (and so pretty on compacts and mini cosmestics packaging in Laura's tutorial)!

Hooray for the French Perfume Giveaway!
Yes, yes… this is supposed to be the section where I talk about all the lovely, colorful perfume bottles (and I will)… but first: shoes!
Laura has done an amazing job turning plastic doll shoes (and purses) into much fancier miniatures. A bit of metallic paint really brings out the molded details on the shoes and purses (and adding a little tassel or filigree spruces them up, too). So to start off this Giveaway, I'm including a set of both the purses and shoes: see what wonderful transformation you can make with them!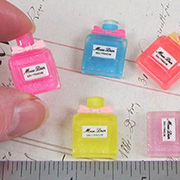 Next up in the Giveaway package, a few items used in making the perfume bottles:
– Resin Mini Perfume Bottles with Bow New and part of the Lucite & Resin Sale!
– Pink Resin Perfume Bottle Part of the Lucite & Resin Sale!
– Red Resin Perfume Bottle Part of the Lucite & Resin Sale!
– Green Resin Perfume Bottle Part of the Lucite & Resin Sale!
– Yellow Resin Perfume Bottle Part of the Lucite & Resin Sale!
– Mini Perfume Labels Collage Sheet
– Bronze Paris Perfume Bottle Charm
Plus a couple more new things announced today:
– Mini Purses Collage Sheet
– Mini Cosmetic Labels Half Sheet
To enter the French Perfume Giveaway drawing all you have to do is leave a comment BELOW on this blog post TODAY or TOMORROW (the deadline is 11:59 pm PST, Friday Night, March 30, 2018).
AND tell me: What will you make with these perfume bottles? (and purses and shoes?) Will you put them in a shadowbox? A dollhouse wardrobe? Use them in different projects?
Don't forget to leave your (hello! correct) email address, too, so I can contact the winner; your email address does not need to be made public. Note: I'm offering free shipping, too, but only within the USA. International shipping will still apply.
Please be patient! Spammers try to post crap here a lot so comments are moderated. So if you don't see your post in the comments section, be patient and check back in a few hours before re-posting it, please!
After midnight, I'll randomly pick the winner (via Random.org).
Hey, who won the Rustic Wire Cart Giveaway from Sunday's newsletter? That would be Lisa C! Congrats! Check your email for info.
Posted by Leslie, March 29th, 2018