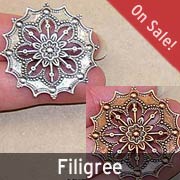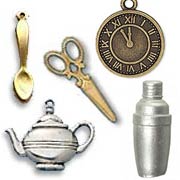 TWO BIG announcements before the new Alice in Wonderland Kit (!) and fun artwork: not only is the Brothers' Grimm Collage Sheets sale that started on Thursday continuing, but there's a new FLASH SALE!
ALL of the Brothers' Grimm Collage Sheets are on sale! See the lovely fairy princess castle (and Fair Maidens and Evil Queens Book Boxes) from Thursday's newsletter! Note: the sale ends TOMORROW NIGHT, Monday, May 2nd 2016.
NEW! 30% off Sale on ALL Household Charms AND Filigree TODAY and TOMORROW ONLY (ends MONDAY, May 2nd 2016)! Why those sections? The Household Charms includes all the little metal teapots & tea cups, the Doll Parts includes crowns (and fans… can't forget The White Rabbit), AND the Filigree section in honor of all the new round filigrees below, perfect for cake plates for the new resin chocolate cake for The Mad Hatter's Tea Party!

Alice in an Altoids Tin Kit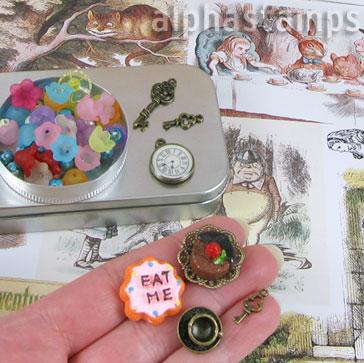 Alice in Wonderland! And Altoid's tins?! Yes, It's "Alice in an Altoid's tin". Or canned Alice?
I've been scheming up a bunch of little things you can use to make a shrine from (or in) an Altoid's tin — all Alice themed!
Starting with the new Tin-Sized Alice Collage Sheet. Cute images from lots of different version of Alice in Wonderland, sized to fit an Altoid's tin. This sheet includes 3 different scenes of The Mad Hatter's Tea Party. And lots of titles from various paper doll sets and vintage books — and check out Shannon's artwork below for how nicely one of those titles fits one of the new Altoid's Tin Insert Frames (the two new insert frames sets are sold separately).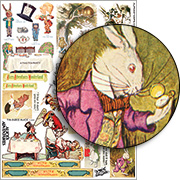 This kit also includes two more collage sheets:
– Alice Covers Collage Sheet
and
– Tenniel's Alice Collage Sheet

And lots of charms and embellishments:
– New Miniature Chocolate Cake
– New Bronze Teacup & Saucer Charm
– Bronze Stopwatch Clock Charm
– 1 Inch Bronze Key
– Alice Pink Eat Me Cookie
– Plus more only available in this kit.
More info, photos and artwork are on the Alice in an Altoids Tin Kit page.


To get you inspired to play with the Alice in an Altoids Tin Kit, we have an assortment of samples for you created by Design Team Members Kristin Batsel, Shannon Cooper and Laura Carson.
Kristin Batsel's Alice at Tea
"The base of the tin is made from letters from an old spelling game, the porcelain hand on top holds a tasty looking tart, and is surrounded by the White Rabbit's pocket watch and a key. To adhere all of those items I used Apoxie Sculpt.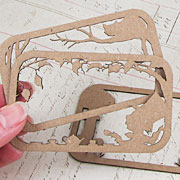 The Cheshire Cat insert from the Altoid Tin Insert Frames – Alice set and it is great for adding extra dimension. The details on the trees and cat were done with colored pencils, while the insert border was painted to match the color of the background paper I chose. I used a tiny brush to apply bright white paint to accent the cat's eyes and teeth."
Alice at Tea Supply List. Visit Junk&Stuff for more details and a tutorial on how to cover an Altoid tin.

Shannon Cooper's Tea Time
Using the same Cheshire Cat insert that Kristin used, Shannon's tin is more of the classic red, white, and black Alice palette.
"Alice is perched on a chipboard armchair from the new Tiny Chipboard Alice Props, listening to the speech of the Hatter.

The top is simply decorated with a pile of 1/2 Inch Red Paper Roses, a bronze Teapot Charm, and a painted chipboard tart."
Tea Time Supply List. Visit Shannon at Flew the Coop for more details, and to see how she used the Altoid Tins Insert Frames – Scalloped on her beautiful, red Curiouser and Curiouser Tin.

Laura Carson's Alice in Wonderland Book – Using Altoid Tin Lids
"Most of my Altoids tin projects only require the container and not the lid. I end up with lots of left over lids which I hate to throw away. To the rescue is an easy book project that uses just the lids! The two lids serve as the front and back covers for the book inside with a closure made from a ribbon attached to the lids.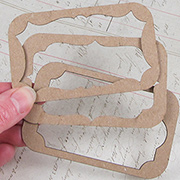 Inside is a book made from frame inserts (hinged together) that are sized to perfectly fit the lids. To create the pages for the book, I started by painting the frames then I glued the frames to Alice in Wonderland illustrations that you will find on my Supply List. You'll notice that I didn't use any dimensional embellishments on the pages as it would make the book too bulky and it wouldn't fit inside the tins. Just stick with paper images and not too many of those.

Decide which page you want as the first and which as the last and cover the backs of these pages with decorative paper. The end result is 6 unique pages!"
Visit Artfully Musing for more details, and to find out how to assemble your book.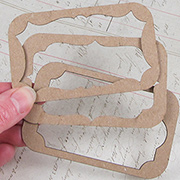 Hooray for the May Kit with Extras Giveaway!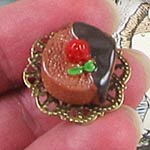 Today's Giveaway starts with… THE NEW KIT:
Alice in an Altoids Tin (with all the collage sheets, charms, resin cakes and flowers, and an Altoid's Tin)
And then I added the two new Altoids Tin Insert Frame Sets:
– Alice
– Scalloped
– and an extra Altoid's Tin!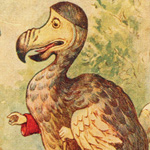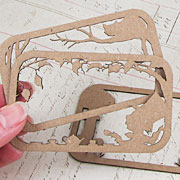 To enter the May Kit with Extras Giveaway drawing all you have to do is leave a comment BELOW on this blog post TODAY or TOMORROW (the deadline is 11:59 pm PST, MONDAY NIGHT, May 2, 2016).
AND to enter the drawing, please tell me: What will you make with Alice using an Altoid's Tin (or 2)?
Don't forget to leave your (hello! correct) email address, too, so I can contact the winner; your email address does not need to be made public. Note: I'm offering free shipping, too, but only within the USA. International shipping will still apply.
Please be patient! Spammers try to post crap here a lot so comments are moderated. So if you don't see your post in the comments section, be patient and check back in a few hours before re-posting it, please!
After midnight, I'll randomly pick the winner (via Random.org). So make sure to check back to see who won! And check your mailbox on Thursday morning for the next Giveaway and Newsletter!
Hey, who won the Enchanted Forest & Brothers' Grimm Giveaway? That would be Nancy E! Congratulations! Check your email for more info.
Posted by Leslie, May 1st, 2016