We have lovely projects by TWO Design Team Members today! I'll let Bella take the lead and introduce Nichola Battilana's Sky Pirate Paper Boat, then I'll take over and share Miz Bella's Miz Cordelia Cleptocoldren (!) Doll Shrine.

I'm not even going to try to think up something to say about the Vintage Voyage contribution that Design Team Member Nichola Battilana created. I think you can see for yourself that it is quite spectacular!
Nichola has designed a Sky Pirate Paper Boat that any one would want to hitch a ride on for a great adventure. Imagine flying on it to foreign lands, or maybe a deserted island where you find hidden treasure or perhaps it would take you back in time to magical places! There is so much to take in and to amaze over with the ship that looks as if it's ready to take off at any moment.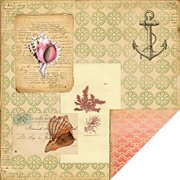 1/8 Inch Wooden Dowels provide an excellent mast for hoisting paper sails that are made out of gorgeous, curved paper. Did you notice on the inside of the boat the twine wrapped around Wood Mini Spools and the Brass Ship Wheel? It's the little details that always make creations even better don't you think? Check out the fibers from the Vintage Voyage Kit that Nichola used on the bottom of the boat — can't you visualize the boat coming out of the water with moss or seaweed hanging off of it?
I really like the "wings" that come out of the side as they get ready to lift the boat into the air. The papers Nichola used are from the Maritime Collection, which is full of inspiration in itself!
Here's a link to Nichola's Supply List. And you can see more pictures of the magical Sky Pirate Paper Boat on Nichola's blog.

Next, by Miz Bella (Kim Ayers), is Miz Cordelia Cleptocoldren, made with the New and On Sale! Antique China Doll ATC Shrine Kit. (Note: that shrine kit is On Sale TODAY only.)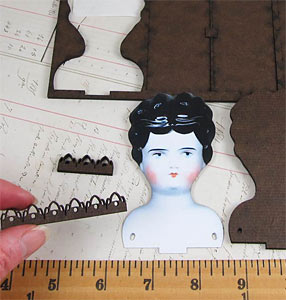 The Antique China Doll ATC Shrine Kit is a flat kit to make a sturdy, little box perfectly sized to hold an ATC. Laser cut from 1/8″ Masonite. Instructions included (as is that cute but optional gingerbread trim I'm holding in the photo at right). Including the doll head, the shrine stand 7-3/4″ tall. AND the kit includes the paper cut-out with the doll's face/head (note: Bella dry-brushed some off-white paint onto the doll head as she wanted a less stark, white / porcelain look).
I love the little backstories Bella creates for her dolls:
Miz Cordelia Cleptocoldren loves to collect all sorts of items, but alas! Many times she forgets to pay for these treasures and then once she gets home and realizes that she has taken something… she just decides that the items were gifted to her by unsuspecting shop owners. One day though, I suspect she will get caught!
Today's Giveaway is inspired by Bella's creation. Included in the Giveaway is one of the Antique China Doll ATC Shrine Kits, 3 yards (3 different colors) of the New 4mm Fused Pearls, a New and On Sale! Nest with Eggs and Leaves, the 1 Inch Pink and Brown Birds that Bella nested (pun intended) inside the shrine, and a substitute for the mulberry flowers Bella used (which, by the way, are on order and being hand-made… probably as you read this): Small Mulberry Paper Blossoms – Mixed Pink.
Here's a link to Bella's Supply List. And you can see more pictures of Miz Cordelia on Bella's blog.
Note: last Thursday we announced a FREE Gift Kit, and that offer is still on: a Tags and Pockets Gift Kit is FREE for all orders over $20! More info (and a photo) plus info on a related sale ENDING TODAY are below.


4mm Fused Pearls
4mm plastic pearls in lovely new colors! Molded onto the strand so they're easy to cut to a length without fear of the beads falling off. AND 3 of these new colors are in Today's Giveaway!

Hooray! A Doll Shrine & Birds Giveaway!
Since Bella included a bird inside her doll, I kind of went on a tangent and pulled a lot of birds. Beside the items I listed above (including the shrine kit itself) here are a few more items included in the Giveaway:
– New and On Sale! Bird Cage Twill Tape – Taupe
– On Sale! Beige & Pink Seam Binding Set
– On Sale! Antique Brass Birdcage Charm
– Bees, Birds and Butterflies Collage Sheet
– Victorian Paper Doll Parts Collage Sheet
AND one each of THREE rubber stamps just added to the Clearance Section:
– Girl with Doll
– Medium Cat & Fiddle
– Ribbon Medallion
(Note: those are on sale for crazy prices… less than $1 each)
To enter the Doll Shrine & Birds Giveaway drawing all you have to do is leave a comment BELOW on this blog post TODAY (the deadline is 11:59 pm PST, April 20, 2014).
Don't forget to leave your (hello! correct) email address, too, so I can contact the winner; your email address does not need to be made public. Note: I'm offering free shipping, too, but only within the USA. International shipping will still apply.
Please be patient! Spammers try to post crap here a lot so comments are moderated. So if you don't see your post in the comments section, be patient and check back in a few hours before re-posting it, please!
After midnight, I'll randomly pick the winner (via Random.org). So make sure to check back to see who won! And check your mailbox on Thursday morning for the next Giveaway and Newsletter!
Hey, who won Thursday's Travel Album Giveaway? That would be Tristan Robin Blakeman! Please check your email for my message about getting your mailing address.
Posted by Leslie, April 20th, 2014