We have lovely projects by TWO Design Team Members today (both using papers from the New and On Sale! By the Sea Collection! I'll let Bella take the lead and introduce 2 projects by Laura Carson, then I'll take over and give a (very tiny) tour of all the (very many) goodies in a new project by Rhea Freitag.
Reminder: TODAY is the final day of the Beach Theme Sale (in honor of the beach theme of the April kit: Vintage Voyage!

Design Team Member Laura Carson has already gone full steam ahead into summer with two lovely summertime creations.
First up is the On the Boardwalk by the Sea diorama. Like Laura, you can get inspired with the By the Sea Collection, mixed with the lovely ladies from the Tinted Beachwear Collage Sheet!
The base for Laura's diorama is the Layer Cake Paper Mache Box Set, which is quite versatile and can be used for a slew of different projects.
There is so much to take in On The Boardwalk by the Sea that I couldn't possibly talk about each and every element Laura used and how it was used; at least not without my favorite bottle of Tequila in hand. But oh, how I digress! Laura used the New and On Sale! Gold Dresden Sail Boats at the top of the cabana and also glued on paper Die-Cut Sand Dollars from the Vintage Voyage Kit to give the sense of steps and a path up the box lids.
Laura walks you through how she creates her amazing boardwalk scene and she also has a tutorial on how to make the cabana, using the 3D Tent Set Download or Collage Sheets. How fabulous is that? I know you're just wanting to hop into your full-length bathing suit to rush on over to Laura's blog, but first check out Laura's Supply List.
Next by Miz Laura is Ship Ahoy!, which has been created with the New and On Sale! The Sea Calls to Me Collage Sheet, which has also been designed by Laura. The collage sheet is nautical themed, and is packed with seafaring women and ephemera. Seriously, I have to ask… does this woman EVER eat, sleep or leave her house?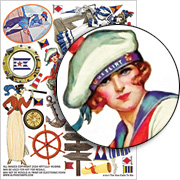 The overall size of this piece is 5" x 8-3/4" and the base of the piece is a frame from Laura's Antique Frames Digital Image Set. And get this, my lovelies: it features a ship's mast with rigging using the New! Antique Gold Lobster Claw Clasps. I kid you knot! (Pun intended.)
Also included with this creation is a tutorial! The mast is so clever — you will have to give it a try! You can find a list of the components Laura used, then you have to yell out AHOY MATEY! before you visit her blog for more pictures and the tutorial.
Wow! Design Team Member Rhea Freitag has filled the little cubbyholes in the On Sale! Tim Holtz Mini Configuration Book with so many treasures! From shells (real and metal charms) to tiny postage stamps and a corked bottle of sand as a memento of a vacation… you'll want to spend a bit of time drinking it all in.
And I must say, Rhea's Supply List is truly impressive! Good thing that many of those goodies are also included in today's Giveaway! (And all those beachy goodies are On Sale as part of the Beach Theme Sale, including those New By the Sea Cardstock Stickers that she used as trim around the outer edges of the book's cover.)

I love the (real) starfish (new and just announced in last Thursday's newsletter) and the tiny little (real) sand dollars. View more photos in Rhea's blog post and/or in the Gallery.
Speaking of last Thursday's newsletter, we announced a FREE Gift Kit, and that offer is still on: a Sand and Sea Gift Kit is FREE for all orders over $20! Sale items are eligible, too!
There are some On Sale! scrapbook papers (including one with a varnish, perfect for tinting with stains or inks to use the varnish as a resist); and a little tin of real (tiny) seashells and beads. The colors were inspired by the beach-sand tan and ocean-waves blue hues in Design Team Member Jeanne Draachreider's Vacation Memory Box. A photo of the gift kit is below (along with pics of the new paper collection and today's beachy Giveaway)!



Hooray! A By the Sea Giveaway!
I pulled a few things in both Laura and Rhea's artwork:
– By the Sea 8×8 Paper Pad
– Brass Ship Wheel
– Fancy Brass Compass
– Antique Brass Starfish Charm
And a few things in one or another of today's projects:
– SIX Collage Sheets (Beach Babes, Tinted Beachwear, The Sea Calls To Me, 3D Circus Tent, Seashore, Seaside Couples)
– Tiny Real Seashells in Tin
– Metallic Silver Fish
– Seashell Sequin Mix
And here are a few more goodies not in any of today's artwork:
– Sea Border Rubber Stamp (Psst! That's the one on sale TODAY only for $1)
– Kraft Postcards
And a bunch of coordinating ribbons:
– Grey Blue Seam Binding
– Cocoa Seam Binding
– 1/8 Inch Drapey Ribbons – Light Blue and Yellow
– Fancy Ric Rac Ribbon – Pale Blue
– 1/8 Inch Edge-Stitched Ribbons – Peach
To enter the By the Sea Giveaway drawing all you have to do is leave a comment BELOW on this blog post TODAY (the deadline is 11:59 pm PST, April 13, 2014).
Don't forget to leave your (hello! correct) email address, too, so I can contact the winner; your email address does not need to be made public. Note: I'm offering free shipping, too, but only within the USA. International shipping will still apply.
Please be patient! Spammers try to post crap here a lot so comments are moderated. So if you don't see your post in the comments section, be patient and check back in a few hours before re-posting it, please!
After midnight, I'll randomly pick the winner (via Random.org). So make sure to check back to see who won! And check your mailbox on Thursday morning for the next Giveaway and Newsletter!
Hey, who won Thursday's Beach Memory Album Giveaway? That would be Pat Shaw! Please check your email for my message about getting your mailing address.

Posted by Leslie, April 13th, 2014