Note: most of the links on this post no longer work, as we moved to a new Web site in 2018. But you can try searching on the same names (as links below) on the new site.

Design Team Member Caroline Ouzts-Hay has created An Altered Book with a Secret Inside — how delicious is that? Even better is that Caroline also created a tutorial for it as well!
What's not to love about this book? The color palette is dreamy and makes you wish for Spring to be here! The front of the book uses the On Sale! Die-Cut Chipboard Corset as the closure on the wrap-around cover (clever!) which Caroline has also enhanced with Golden Molding Paste and the 6×6 Stencil – Lace Trim.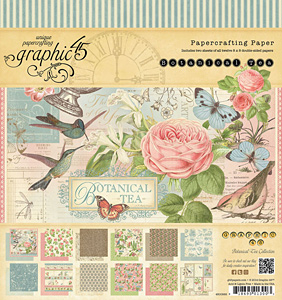 You're loving those peachy colors on the inside papers, I can tell. Alas! We do not have the exact papers that Caroline used, however: the New and On Sale! Botanical Tea Collection is a great match! They have the same mottled brown with light green colors, and pink instead of the peach that is in the papers Caroline used. This collection really is quite stunning — whether you use it to create your own Altered Book Box (or simply add it to your stash)!
If you're wondering where the gorgeous images that Caroline used came from, she used the Decorum, Lace Edgings, and The Secret Out At Last Collage Sheets. (Hey, all of those are On Sale! as part of the Victorian Collage Sheet Sale — and two of those sheets are also in this month's kit: French Corsets!)
In addition to the Altered Book Box we just talked about, Caroline also created a second box to go along with the video tutorial she created! I know! She's so crafty crazy, that one.
The second altered book box (shown at left) opens more like a standard, portrait-orientation book (and without the wrap-around cover) but still has a box inside. It uses the The Garden Timeless Scrapbook Paper on the cover, the Pink Roses and Emotions Collage Sheets, and the new Shocking Pink Tulle Netting to tie it closed.
Yes, yes, I have seen how Caroline makes the Altered Art Box. No I will not tell you how, or divulge any secrets as you must watch the video and enjoy learning how to make it yourself!. Before you run off to check out Caroline's tutorial, look below for some more art samples by the Design Team using the Botanical Tea Collection (like that adorable Fairy Artist Trading Block by Design Team Member Nichola Battilana, at right — and more new flowers and today's Giveaway)!
Here's the link for Caroline's blog post and video tutorial for both Altered Book Boxes.


Hooray! A Pink Botanical Fairies Giveaway!
Ok… I may have gone a little crazy (note: most of the papers in the Giveaway do not show in the photos):
– ALL 12 (!) Botanical Tea Scrapbook Papers New and On Sale!
– Gardenias – Mixed Pink Back in Stock and On Sale!
– Mulberry Paper Lily Mix New and On Sale!
– Tiny Paper Roses – Cream-Pink-Brown New and On Sale!
– Gardenias – Cream-Pink-Brown New and On Sale!
– Flora ATCs Collage Sheet On Sale! as part of the Victorian Collage Sheet Sale!
– Pink Fairies ATCs Collage Sheet
– The Lovely Garden Collage Sheet
– Vintage Postcard Fairies Collage Sheet
– Fairy Labels and Ads Collage Sheet On Sale, too!
– Tulle Netting – 6 Inch Wide – Light Pink New and On Sale!
– Tulle Netting – 6 Inch Wide – Shocking Pink New and On Sale!
– Pearlized Stick Pins – Cream and Brown Leaves New and On Sale!
– Pearlized Stick Pins – Green Leaves On Sale!
To enter the Pink Botanical Fairies Giveaway drawing all you have to do is leave a comment BELOW on this blog post by TOMORROW NIGHT (the deadline is 11:59 pm PST, FRIDAY, March 14, 2014).
Don't forget to leave your (hello! correct) email address, too, so I can contact the winner; your email address does not need to be made public. Note: I'm offering free shipping, too, but only within the USA. International shipping will still apply.
Please be patient! Spammers try to post crap here a lot so comments are moderated. So if you don't see your post in the comments section, be patient and check back in a few hours before re-posting it, please!
After midnight, I'll randomly pick the winner (via Random.org). So make sure to check back to see who won! And check your mailbox on Sunday morning for the next Giveaway and Newsletter!
Hey, who won the Stationer's Desk Giveaway? That would be Jackie! Please check your email for my message about getting your mailing address.

Posted by Leslie, March 13th, 2014