What a lovely triptych by Design Team Member Rhea Freitag! And from such humble beginnings: a few pieces of chipboard, cut with the New and On Sale! Movers & Shapers Base Die – Arch Frame and Movers and Shapers Magnetic Die Set – Arches (and colored with Metallic Distress Stain in Brushed Pewter — Rhea loves the metallic stains on raw chipboard and it does look great).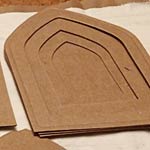 And the Back in Stock and On Sale! Mica Tiles are perfect as" window panes" for those ladies from the On Sale! The Secret Out At Last Collage Sheet. I love the warm, vintage look of mica. (Don't forget that the ENTIRE Victorian Collage Sheets section is now on sale — in honor of the March Corsets Kit.)
The new Scalloped Metal Hinges – Old Brass are a perfect size for the die-cut arches, too. More info on those below.
Here's a link to Rhea's full supply list. And more photos and inspiration on her blog post.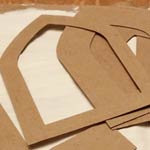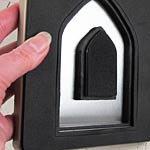 Next up: Design Team Member Caroline Ouzts-Hay created an altered matchbox with birds from On Sale! Birds & Pink Blossoms Dresden Scraps and the Blue Birds Collage Sheet.
Here's a link to her supply list. Plus more info from Caroline on her blog post. (That's a blog post and tutorial for how she made the little wire bird's nest with pearl eggs.)
(With February being a short month, we had a surplus a birds from our month of Odd Birds. Beside Caroline's sweet altered matchbox, there's also a wacky little "Bird Barber" by Design Team Member Rhonda Secrist Thomas!)


Hooray! A Steampunk Triptych Giveaway!
Wow! Miz Meghan pulled some choice items from Rhea's Triptych Women (click that link for a reminder of the supply list), plus these extra goodies:
– A set of chipboard arch die cuts from the 2 new die sets! (in case you don't have a die-cutting machine, you can still play)
– Vintage Journal Pages – Olde English (12 per package (2 each of 6 designs) — one with a light green print (and a periwinkle seal?) is shown in the upper right of photo)
– Kraft Gift Bags with Seals – Newsprint (Set of 6 bags (3 each of 2 sizes) plus 6 round sticker seals — only 1 bag and the seals shown)
– Madonna and Child Collage Sheet (Kind of an odd choice… but the arches led to gothic arches which led to Mary and saints…)
– My Graceful Figure Collage Sheet
– Medieval Triptychs Collage Sheet
– Nirvana Up and Away Scrapbook Paper
– Grow Scrapbook Paper (minty green and brown rulers… looks great with the Nirvana and Olde English papers)
– Engraver Cartouche Scrapbook Paper (nice faded map/handwriting design — under the majority of the items in the photo at right)
– ATC Gothic Arches – Base
To enter the Steampunk Triptych Giveaway drawing all you have to do is leave a comment BELOW on this blog post TODAY (the deadline is 11:59 pm Pacific Standard Time, March 6, 2014).
Don't forget to leave your (hello! correct) email address, too, so I can contact the winner; your email address does not need to be made public. Note: I'm offering free shipping, too, but only within the USA. International shipping will still apply.
Please be patient! Spammers try to post crap here a lot so comments are moderated. So if you don't see your post in the comments section, be patient and check back in a few hours before re-posting it, please!
After midnight, I'll randomly pick the winner (via Random.org). So make sure to check back to see who won! And check your mailbox on Sunday morning for the next Giveaway and Newsletter!
Hey, who won the Corsets and Lace Giveaway? That would be Kay Wilkinson! Please check your email for my message about getting your mailing address.

Posted by Leslie, March 6th, 2014