Lots of spring/garden inspired goodies arrived this week, which got me thinking about this beautiful Victorian Conservatory by Laura Carson! I'll start by revisiting that artwork (including some back-in-stock items in it), then explain what else is new this week — and a HUGE garden sale!

The Conservatory is a nice large space (10″ wide x 9″ deep) with double doors for the front and back. The roof can lift off to work inside (or see inside better) — plus there's a ledge around the top of the "room" that you could hang plants from.
The many windows on the side walls have an early 20th c Arts and Crafts feel. The solid wall areas under the windows (on all 4 sides) give a space for extra embellishments, too! (Like the Green Man masks around the sides of Laura's Conservatory.)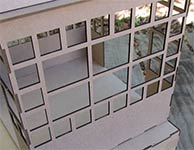 If you choose, there is also with a separate Platform with Steps that you can set the Conservatory on.
Laura's Victorian Conservatory is filled with lovely plants, a beautiful fountain and a nature-inspired chandelier; and she created a Conservatory Garden Decor Collage Sheet and a companion Digital Download Set. The Digital Set includes all the images in the collage sheet, plus 5 borders. (And both are on sale as part of the Foliage & Garden Sale!)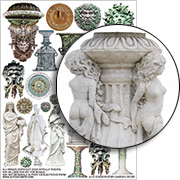 You might be looking at this project and thinking "there is no way I could do this", but you are wrong! The entire structure comes as an easy to assemble kit — yeah for kits! All that is required for assembly is that you glue the die-cut pieces together using the tongue and groves cut into the chipboard; then paint, use decorative paper and Collage Sheet or Digital Images to give the piece its architectural details.
Visit Artfully Musing and you'll find a instructions on how Laura assembled and decorated her Victorian Conservatory, a tutorial on how to cast your own mold from a found object (like the Green Man masks around the sides of her Conservatory). Note: we updated the site since the original project so make sure to use this link for Laura's Supply List!


What is NEW today?
These new (or back-in-stock) items are ALL miniatures! And quite a few are things I have been awaiting for months! (Plus some are in the new sale — noted with each name below.)


Foliage & Garden on SALE!
At least 25% off on EVERYTHING in this collection! Bonus: the back-in-stock Mini Rose Buds shown at right are also in Laura's artwork!
Note: this is a HUGE group and includes beads & charms, scrapbook paper, collage sheets and digital images, miniatures, and miscellaneous collage supplies (from leafy garlands to paper punches to chipboard leaf shapes)! Oh! Of course: paper flowers themselves (and a few kits)!
Psst: Anything on clearance in this collection is marked down to 50% off!
The sale ends at midnight PST, SATURDAY night, April 17th.
See the sale collection here! Over 300 items!

Here's examples of clearance items in the sale (50% off)!


Who won the Ethereal Brooch Giveaway from the last newsletter? That would be Jackie P Neal! Congrats! Check your email for info. (And a reminder of that colorful artwork is below.)

Posted by Leslie, April 15th, 2021