We have 2 beautiful projects today… related by 2 sizes of Miniature Trays with Handles! Let's start with Teri Calia's The Memory Keeper's Room!
I love what Teri has made, all starting with the Petite Garden Shelves over on the right side (with the addition of Slender Cabriole Table Legs, and with all the shelves filled with treasures). The whole room grew around that shelf unit and the matching Park Bench.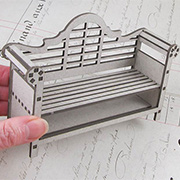 This little shabby chic roombox is a tribute to all of you out there who collect vintage ephemera and photographs. I started collecting when I was a child because I spent a lot of time with my Great Grandmother, who was a collector. I still get a thrill when I find a particularly interesting old postcard or well worn love letter. The memories attached to these treasures may not be my own, but they still speak to me and inspire me to imagine a long past world so different from my own.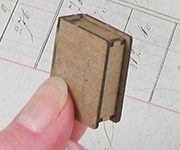 As you can see, the focus of this room is the tray filled with old letters, postcards and photographs. There is even a magnifying glass for closer inspection. Below the tray is an open faux book box, with more photos and ephemera, waiting patiently for perusal. A couple more faux book boxes on the shelf await their turn as well.
See below for close-ups of the tray of photos and postcards, and the tiny size faux book box.
More info in Teri's blog and/or see her supply list.
Note: the second artwork using a larger size tray is below and both supply lists are included in today's sale!


NEW Miniatures — inspired by both art themes
Kinda spans plants to keepsakes to tiny baking goods! I also added all 12 of the new items to the sale collection! See below for more info on the COUPON sale!


Holiday Baking Tray by Shannon Cooper
Two sizes of trays with handles… the larger one was designed as a display area for Shannon's (adorable!) 1:12 scale baking scene. This tray is NOT 1:12 scale… more like a little area the size of a table top to place items when you don't have the time or space to decorate a whole kitchen.
Approx. the size of an Altoids Tin (3-3/4″ x 2-1/4″).
Shannon's little baking scene is so cute! (See the wide photo below.) I love all the little holiday trims. Plus this kind of mini scene could be done for any holiday (or maybe a birthday cake or other celebration).
Plus Shannon provides a tutorial on making the cakes and decorating them (including making an indentation for tiny gingerbread cookie before baking the polymer clay cake).
Read more in Shannon's blog post and/or see everything from her supply list (and remember that all these supplies are in today's sale collection — more info below)!


FREE Gift with Orders
A Collector Bits Gift Kit is FREE with all orders placed today through Wednesday (ends at midnight May 3, 2023)!
I picked out 5 tiny things inspired by Teri's artwork:
– Tiny Solid Bronze Star Charm
– Silver Airplane Charm (with the odd group of items on the shelves — including a teddy bear — I thought a toy airplane would fit)
– Tiny Metal Cat Silhouette (just one… there are 5 options; 2 different ones are shown at right)
– A couple of the Tiny Shank Doll Buttons
– 18mm Flat Lace Edge Setting
Bonus: I added all 5 to the sale collection below, too!


Memory Keepers SALE
I've already highlighted some items above from both art projects above, but I picked out even more (shown below).
Use coupon KEEPER when checking out to get an additional 20% off on EVERYTHING in this collection! That's 20% off beyond current sale prices! 50 items including the supply lists AND all the new items announced today!
Bonus: I've added 5 more as substitutes for items in Teri's artwork:
– House Plant in Brown Pot
– Micro Mini Teddy Bear
– White Sleeping Cat
– Red Roses in Wooden Flower Pot
– Mini Glass of Iced Tea (it looks like Teri used a glass of lemonade on the tray, though it could be a Gin & Tonic)
The sale ends WEDNESDAY NIGHT, May 3rd at midnight PST.
Posted by Leslie, April 29th, 2023