The Small Hinged Tins are back! Approx 2-1/2″ x 2″ x 1/2″ tall. The lid and bottom are a bit domed (not flat like the larger tin).
Ages ago this tin was in a Magic Potions Kit… a photo showing some tiny bottles in the tin are on the product page. The Covers for Apothecary Tins Collage Sheet was also made for this tin.
The related Small Hinged Tins Triptych Frame is also back! A cute set of 3 chipboard frames, laser cut from heavy chipboard. Use them singly or hinge them together to make a standing triptych.
So… I picked a trio of artworks using either the tins or the triptych frame (or both) and I've put everything in ALL THREE supply lists on sale! (More info on those Halloween cats is below, too!)


Altered Tin Artwork x3!
If you love miniatures (and even if you don't) you're going to flip over the Witch's Cottage by Shannon Cooper. It's one of those creations that has so many fun things going on within it that every time you look at it, you find something new that you hadn't noticed before.
"It began with the idea of making a teeny potions shelf out of one of the Small Hinged Tins. It's only 2.5″ x 2″, which makes it the perfect size for tiny bottles. The lid of the tin was removed and I left the hinges pulled out so I could hang a Pentagram Charm and key from the bottom. The little shelf is simply a piece of painted balsa wood. Some of the bottles were made with 12x8mm Clear Glass Rectangular Beads and Jet Black 4mm Smooth Rondelles, and I used the most microscopic labels from the Secret Spell Book Labels Collage Sheet. Sharpies were used to color in the liquid inside the bottles.
Note: see that tiny picture frame at right? It's made from bending on of the 18x13mm Oval Filigree Settings (back in stock today too, and also used in the next art project below).
Great job, Shannon! Read more and see more photos in Shannon's blog post or view the (HUGE) supply list (note: use my supply list link as we moved sites since that project).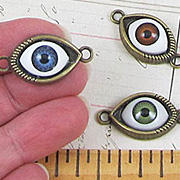 NEXT UP: That Kristin Batsel is so clever! She connected 3 of the tins (well… actually 1-1/2 tins as she used 2 lids) to make a tiny triptych!
Note: Kristin used Epoxy Clay to sculpt the frame surrounding her 3 tins. But the Small Hinged Tins Triptych Frame was inspired by her project (and is shown in the third project, below).
I love the Eyeball Cab in Setting and Silver Skeleton Pendant Kristin used to embellish that center panel (and don't forget the bottle with the 18x13mm Oval Filigree Setting behind it).
You can read more about Kristin's project on her blog post. And/or see the other goodies Kristin used in her supply list. (Same caveat about using my supply list link.)

FINALLY, see the photos at right and below for an Alice in Wonderland Triptych (by Rhonda Thomas)!
So fun and festive! I like the depth that the little tins behind each window offer. And see that top hat on the top of her triptych, and in the lower left corner of the big photo at right? Rhonda says:
The Mad Hatter's hat looks so dimensional, but it is actually flat and from the Tiny Chipboard Alice Props. I used Distress Stain in Black Soot lightly in the middle and darker on the edges. Then I highlighted it with a white paint pen and a white stamp pad. Little touch of the finger to the pad then dab, dab, dab.
Aw… And Rhonda even finished off the backs with antiqued torn paper and card suits painted red (and smaller metal card suits on the blocks).
Here's Rhonda's blog post for more photos and lots more tips on making a small triptych. And her supply list (and remember that all these supplies are in today's sale collection)!

More NEW & Back-in-Stock Goodies
Starting with the Standing White Resin Cat shown at right (super tiny and cute)! (Yes, it's Halloween cats time. And not just cats as there's a raven skull, a skull & crossbones, and a ouija board below, too!)
I also added all TEN of the new/restocked items to the sale collection! (That includes the tins, triptych frame and oval settings already highlighted above.) See below for more info on the COUPON sale!


FREE Gift with Orders
A Tiny Tin Trims Gift Kit is FREE with all orders placed today through Wednesday (ends at midnight April 19, 2023)!
I picked out 3 things used in the artworks above (plus a bonus for the Alice theme):
– 18x13mm Oval Filigree Setting (in both Kristin and Shannon's projects)
– Half Round Bronze Fancy Fan Filigree (pretty close to the filigree on top of Kristin's tins)
– Bronze Perfume Bottle (in Shannon's busy cottage)
– Medium Bronze White Rabbit Charm (a bonus item for Rhonda's artwork — and added to the sale collection below, too)!


Small Tins & Triptychs SALE
I've already highlighted some items from the art projects in this collection (but I picked out a few more, shown below).
Use coupon SMALL-TINS when checking out to get an additional 20% off on EVERYTHING in this collection! That's 20% off beyond current sale prices! Over 60 items including all three supply lists AND all the new items announced today!
The sale ends WEDNESDAY NIGHT, April 19th at midnight PST.
Posted by Leslie, April 16th, 2023