Design Team Member Laura Carson has created the most marvelous, miniature Victorian Conservatory using the 1:12 Scale Conservatory (that is very easy to put together)! The conservatory is a nice large space (10″ wide x 9″ deep) with double doors for the front and back. The roof can lift off to work inside (or see inside better) — plus there's a ledge around the top of the "room" that you could hang plants from.
The many windows on the side walls are lovely (and have an early 20th c Arts and Crafts feel). The solid wall areas under the windows (on all 4 sides) give a space for extra embellishments, too! (Like the Green Man masks around the sides of Laura's Conservatory.)
If you choose, there is also with a separate Platform with Steps that you can set the Conservatory on.
(If you want to give yourself a (slightly smaller) challenge, there is also a (back in stock) Small Conservatory (shown at right). This smaller one is 7″ wide; not quite reduced enough for 1:24 scale, but sized for using with the 9x9x1 platform (so you'll have an inch of platform on either side to put plants, etc.)
Laura's Victorian Conservatory is filled with lovely plants, a beautiful fountain and a nature-inspired chandelier; and she created a new Conservatory Garden Decor Collage Sheet and a companion Digital Download Set. The Digital Set includes all the images in the collage sheet, plus 5 borders.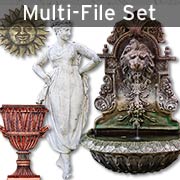 You might be looking at this project and thinking "there is no way I could do this", but you are wrong! The entire structure comes as an easy to assemble kit — yeah for kits! All that is required for assembly is that you glue the die-cut pieces together using the tongue and groves cut into the chipboard; then paint, use decorative paper and Collage Sheet or Digital Images to give the piece its architectural details.
Visit Artfully Musing and you'll find a instructions on how Laura assembled and decorated her Victorian Conservatory, and a tutorial on how to cast your own mold from a found object (like the Green Man masks around the sides of her Conservatory)!
Note: I've put everything in Laura's BIG supply list on sale! PLUS I added the smaller conservatory AND all the new and back-in-stock items shown below to the sale! More info on the sale is also below.


More New or Back-in-Stock Garden Miniatures
The Jonquil Leaf Beads, Antiqued Large Victorian Planter and Fancy Acorn Drawer Knobs are in Laura's project (the beads are part of the chandelier, the drawer knobs are the finials on the corners of the conservatory) and see that photo at right for a line-up of mini planters including the Victorian Planter (you can view that whole group of planters here).
Oh, and check that second row below: that new urn and bird bath would look grand in a conservatory scene! Note: I've added all these items to today's sale! See below for the coupon info.


FREE Gift with Orders
A Glass Leaves & Bee Gift Kit is FREE with all orders placed today through Wednesday (ends at midnight April 5, 2023)!
One more back-in-stock item got omitted from the list above: Pressed Sea Glass Leaves. A mix of these plus the Jonquil Leaf Beads in Laura's chandelier (AND a 1 Inch Bronze Bee Charm, just cuz!) are in the mini gift! Hm… come to think of it, those bees would be a good size to substitute for the brass masks around the sides of the conservatory…
Note: I added both of these extra items to the sale collection, so see that coupon below, if you want to buy more!


Mini Conservatory SALE
I've already highlighted a few items from Laura's art project above (mainly the big structural things), so I picked out a few smaller items, shown below).
Oh, I picked out these 3 items that could substitute for some things Laura used:
– Unfinished Wooden Brackets (about the same size and shape as the (grrr: still unavailable Rectangular White Shelf Brackets) Laura used at the top 4 corners of the conservatory)
– Floor Pedestal
– Red Foam Stamen
One more bonus group added to the sale: TEN colorful mulberry paper blossoms!
Use coupon VICT-CONSERV when checking out to get an additional 20% off on EVERYTHING in this collection! That's 20% off beyond current sale prices! Over 40 items! And remember all those new goodies shown above are in the sale, too!
The sale ends WEDNESDAY NIGHT, April 5th at midnight PST.
Posted by Leslie, April 2nd, 2023