Lots of cute and varied artwork today! There are TWO unfinished wooden candlestick holders back in stock today… and FOUR art projects using them! (Two are samples for each style/size of candlestick holder).
I created 1 new sale collection (including some extras beside the 4 supply lists).
PLUS a new Bronze & Patina Seashell FREE GIFT Kit (and all those items are in the new sale collection, too)!


It was a Dark and Stormy Night
I'm starting with TWO projects by Lora Mahaffey (both using the Short Candlestick Holder — and both with an ocean theme):
Here is a piece with some interesting elements… a stormy sea with a ship teetering on the brink of disaster.
A woman looking away from the ship, gazing into the 'room' with a sea serpent coiled around her ankles.
What is the story? Is she a transformed mermaid seeking vengeance on the sea captain who imprisons her?
Is she about to send the serpent to rescue the crew of the ship?
Whatever is happening, it's going to be a rough, wet night.
Note: Lora hand-tinted that damsel, from the Edwardian Women Collage Sheet.
Special thanks to Lora as she also tinted the sea serpent (on her shrine and on the Sea Serpents Collage Sheet).
Here's Lora's supply list and blog post (with tutorial). And don't forget that all the supplies from ALL FOUR projects are included in the sale collection (more info below).


Mermaids' Hidden Treasure
Another project by Lora, also using the Short Candlestick Holder but a completely different look.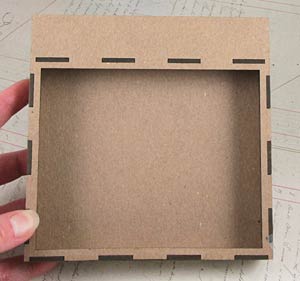 Somewhere in the Atlantic ocean, an undiscovered island sits dozing in the sun. There is a stretch of coastline on this island that is very rough and dangerous, full of large rocks, treacherous tides and sudden undertows. No one would think of anchoring a boat there or heavens forbid, swimming that stretch of shore.
Unless you are a mermaid.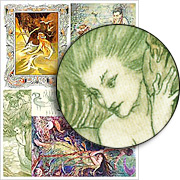 Because under the water there is a hidden grotto that isn't even visible at low tide. The water reflects the dappled sunshine, lighting up this very secret place that the mermaids have chosen to hide the treasure they have collected over centuries.
I'm happy to see Lora used that versatile Square Shrine Shadowbox as the starting point for her shrine. And I love all the little embellishments to the mermaids from the Sea Green Mermaids Collage Sheet: pumping up some colors with Copic Markers (or changing colors entirely like the mermaids' hair).
Here's Lora's supply list and blog post). Note: that's a fairly old post so use my supply list link. Also note: I added the Altoids Topper Victorian Scroll as a substitute for the squirrely filigree on the top of the shrine).


FREE Gift with Orders
A Bronze & Patina Seashell Gift Kit is FREE with all orders placed today through Wednesday (ends at midnight February 8, 2023)!
This little set was inspired by those 2 ocean-themed projects by Lora. The set includes one each of these SIX charms:
– Enameled Seashell Charm Mix (a random choice)
– Tiny Silver Conch Shell Charm
– Tiny Silver Scallop Shell Charm
– Patina Sea Horse Charm
– Bronze Conch Shell Charm or Pendant
– Brass Patina Conch Shell Charms
– Bonus: an ample pinch of the Mini Seashell Sequin Mix!
(and everything in this freebie is in the sale collection, so see that coupon below, if you want to buy more)!


Hallowe'en Candy Dish
Wow… Here's a jump! Not only did Nichola Battilana use the taller, skinnier Candlestick Holder but we're jumping to Halloween!

I made the candy dish using the Tealight Haunted House Kit with Base. Only I didn't use the base as a base, I used it upside down for something more important… candy corn (do not even try to debate me on the goodness of candy corn).
Not only is this project cute, but came together pretty quickly. Quick, easy and cute = extra awesome in my book.
I didn't fiddle around with the house at all. I assembled it, added the window frames, applied a good coat of acrylic paint, then highlighted the frames in gold. To finish it off I added dresden trim, glass cabochon windows and wee plastic bat.
I love the gold paint on the window frames… it looks so rich (almost like gold leafing) but it's just unevenly applied so the black underneath shows through a bit.
See more photos (and read more about candy corn!) on Nichola's blog post. And here's Nichola's Hallowe'en Candy Dish Supply List


Witch's Bed and Table
I'm cheating a tiny bit here: that center stand/base for the round table in Shannon Cooper's project is not the same wooden candlestick holder (but the 3 Inch Tall one would be a good match, and a good height for a dollhouse scale table).
The Spider Web Wrought Iron Playing Card caught my eye and I decided to transform it into a bed for a witch.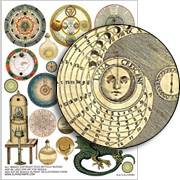 The table was an afterthought, made by gluing a wood finial to a wood disk, painting it, then adding a Dresden trim along the edge.
Note that Shannon used a rubber stamp for the bed linens, and to emboss a gold metallic design in the top of her table. Clever!
Here's Shannon's supply list and blog post (with a detailed tutorial on how to construct the bed).


Art from Candlestick Holders SALE
I've already highlighted quite a few items from each of the FOUR projects in this collection (but I picked out a few more, shown below).
Use coupon CANDLE when checking out to get an additional 20% off on EVERYTHING in this collection! That's 20% off beyond current sale prices! Over 40 items (including the charms from that FREE gift set)!
The sale ends WEDNESDAY NIGHT, February 8th at midnight PST.
See the entire sale collection here!

Posted by Leslie, February 4th, 2023