After that cute little house announced last weekend in the Dollhouse Ornament Kit, I'm focusing on a bit larger (but still miniature) house.
So below are TWO different projects using the House Ornament and House Ornament Chimney & Dormers shown at right.
And below the fun artwork, there's some new cookie, candy (and cake stand) miniatures, a sale based on the supplies from both house projects PLUS some bonus sale items and a new FREE gift!


Holly Jolly Christmas House by Kristin Batsel
Kristin used the House Ornament, and lots of the coordinating add-ons (like window trims, dormers, and a tiny fence) — all of those are included in today's sale!
I love the way Kristin's little house turned out! So cheery and inviting. Good thing she provided a tutorial, too! For things like how to apply tissue paper behind tiny windows and leaving room to glue down all your little items (like the peppermint stepping stones).
"This little house stands only about 3" tall, not counting the base. It was made from a kit, and if you read on through to the bottom of my post, I'll talk about how it was put together. Meanwhile, here are some more photos. The tiny family who lives here sure did a good job of decorating the tallest tree! It's easy to attach the beads; I just dipped them in some tacky glue and stuck them into the branches.
"You can totally fence your house in, or you can use an xacto knife to cut a little gate. I think it looks nice to have an open gate with the pathway leading to the front door."
Learn more in Kristin's post and don't forget to see everything from Kristin's Supply List. (Plus see below for more info on the related new sale!)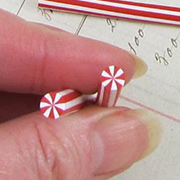 What a sparkly (faux) gingerbread cookie/cake confection! Note that Rhonda used two of the dormers on one side of the roof (see the top right of the wide photos below… with the house lit up) versus how Kristin put the dormers on opposite sides of the roof.
"Here's a favorite tradition that my girls and I love to do every year, making Gingerbread Houses! The thing I love about this little house is that not only can it light up, but it can be kept for years to come because none of it is edible!
"The tiny peppermints were created by slicing this fun Polymer Clay Red Swirl Peppermint Cane. A little goes a long way and it slices like butter with an exacto blade."
Here's Rhonda's big supply list! Note that I've added a few substitutes for items that have sold out since Rhonda made this house (3 are shown below the wide photo group below; a couple more are mentioned in the sale section).


Those New Mini Candy & Cookie Jars…
Here's a festive group! Beside that back in stock (and updated) Mini Cake Stand Kit, there glass jars with lids (candy and cookies), ceramic santa mugs, mini red basket filler (fun to tuck into tiny boxes in a Christmas morning scene), and… that mouse is just too cute! And useful for themes from The Nutcracker to Hickory, Dickory Dock.


NEW: Holly Jolly Christmas Houses SALE
This is a coupon sale in honor of BOTH projects above! So all those chipboard items above are already in this sale!
But first: can't forget the new Tiny Tree Trimming Gift Kit! See the photo at right for the items in the kit:
– That little tree is already in the sale group, as I added it as a substitute for the trees in both of the projects above.
– The Yuletide Tiny Wreath Bead Mix is made of 2mm & 3mm beads, including Czech glass imports (also added to the sale collection)!
This set is FREE with all orders placed today through SATURDAY (ends at midnight November 5, 2022)!
(More) bonus items added to the sale:
– Miniature Metallic Garland Set (fairly close to the springy red stuff in Rhonda's project)
– Mini Glass Confectioner's Sugar (can always use some glittery ice effects in a winter scene)
– Flat-Back Gold Star Studs – 12mm (larger size of the 8mm ones on top of the trees in both projects)
– Single LED Light – Warm White (could be used to light up your house instead of a tea light)
Use coupon JOLLY when checking out to get an additional 20% off on EVERYTHING in this collection!
The sale ends SATURDAY NIGHT, November 5th at midnight PST.
See the entire sale collection here! Over 20 items!

Posted by Leslie, November 3rd, 2022