It's feeling like fall here. I thought a book box with options for many (any?) season might be just the thing…
So below are THREE very different projects, all using the same size of Hidden Drawer Book Box (6-1/4″ tall — one project showing a book box with shelves, two using the open space inside for a scene).
And below all the fun art options, there's a sale based on those supplies PLUS some bonus sale items and a new FREE gift!


Twas The Night Before Christmas Book Box by Nichola Battilana

"The base is a Hidden Drawer Book Box and I've used the Night Before Xmas Book Box Collage Sheets to bookify the exterior. It looks like an old book on the outside but slide out the secret drawer and…
"Inside is a darling little Christmas scene jam packed with tiny boxes. If you want to make your own tiny presents, I highly recommend gently scoring all of the edges you're going to fold. Trust me, it will save you a lot of frustration AND your boxes will look 100x's neater.
"Now, because I was crafting on a time schedule I simply painted the entire box black before embellishing. This hides any wonky edges and you can totally get away with not papering every single edge and still have a neat looking finished project.
"You could make the inside as busy and cluttered with Christmas finery as you like. I love the big jumble of gifts in this box, but a little table with a plate of cookies for Santa or a fireplace with stockings would be just as sweet. It has great potential for you to put your own style inside.
"With the mad dash to finish this piece, I can attest to the fact that you can put it together with relative ease. Imagine what a lovely little heirloom gift this would be to make someones Christmas extra special… even if you don't have oodles of time to spare."
Here's Nichola's supply list!


A Witch's Book of Spells by Teri Calia
Here's the project using the book box with shelves inside (the style that started this series). A book that looks "normal" when sitting on a shelf, but pull out the spine and there's a secret compartment inside!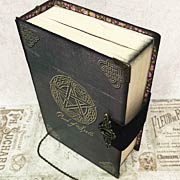 This project is filled with potions bottles and books (and there are two collage sheets with the covers and faux book pages — and a third with tons of tiny labels). Just in case you haven't finished all your spooky Halloween plans for this weekend!
Here's Teri's big supply list!


Alice in Wonderland Hidden Book Box by Teri Calia
One more project by Teri!
Cute, cute cute! Teri Calia has been at it again… creating not one but TWO sets of collage sheets to make a seemingly normal old book for your bookcase, that contains a drawer and space for a hidden scene inside!
The Wonderland and Looking Glass Book Box Collage Sheets supply the faux book covers, spine, pages (and extra bits to get you started on a scene or extra decorations). So you can make both Alice books by the good Reverend Dodgson.
"Alice's Adventures in Wonderland is one of my all time favorite books! Along with the sequel Through the Looking Glass and What Alice Found There, you have only to pick up either book, flip to any chapter and be instantly amused by the crazy antics of Alice and friends. That is why I couldn't resist doing a couple of collage sheets for both books sized to use with the Hidden Drawer Book Box.
"I added The White Rabbit to the cover standing on a stack of books and holding a pocket watch. The White Rabbit is also standing on a pile of books on the back cover, where he is joined by a framed photograph of Lewis Carroll himself. Inside you find Alice contemplating a bottle labeled "drink me" as the Mad Hatter peers at her from behind the curtain."
Here's Teri's second supply list!


NEW: Hidden Drawer Books SALE
This is a coupon sale in honor of all THREE projects above!
But first: can't forget the new Tiny Alice Gift Kit! See the photo at right for all 4 items in the kit:
– Those 2 chipboard shapes are perfect for an Alice tea party kinda project (not sold separately). Though that cup is similar to the wooden teacup (and wooden teapot) that I've added to the sale
– Enamel Alice in Wonderland Clock Charm (also in the sale collection)
– Silver 3D Alice in Wonderland Herald Rabbit (also in the sale collection)
This set is FREE with all orders placed today through SATURDAY (ends at midnight October 29, 2022)!
(More) bonus items added to the sale:
– Alice 6×6 Paper Pad (just put on clearance so this is a double sale!)
– Looking Glass Book Box Collage Sheet Part 2 (the 4th of the Alice-themed book box collage sheets not already used by Teri in her artwork above)
– ALL the rest of the Bottle Brush Trees! (1 set is already in Nichola's project)
Use coupon HIDDEN-BOOK when checking out to get an additional 20% off on EVERYTHING in this collection!
The sale ends SATURDAY NIGHT, October 29th at midnight PST.
See the entire sale collection here! Over 40 items!

Posted by Leslie, October 27th, 2022