Before explaining how a pink floral folly and a fortune teller's booth are related (!): there's a new FREE gift with all orders placed today through Tuesday (ends at midnight October 18, 2022)!
The combo of a Antique Silver Fortune Teller Hand Pendant and a Bronze Celestial Icons Charm Set are both in the free gift set!
I also made a new collection from the supply lists from both projects below — and put it all on Sale plus a few extra items (more info below)!


The Old Folly by Lora Mahaffey!
Lora Mahaffey created a lovely piece of architecture with the Fortune Teller Booth (a theme, if not the exact chipboard kit, that unites both artworks featured today). There are some new 2-tone paper flowers (that could substitute beautifully for the pink garland in Lora's project), plus the roof for the booth is back in stock!
Out in the countryside far away from the noise of the village, nestled in it's own copse of woods is a very large, very grand house. She's a beautiful, if a bit shabby house and is well loved by the family that lives there. There is no gardener, but the flowers and lawns are cared for as best the family can.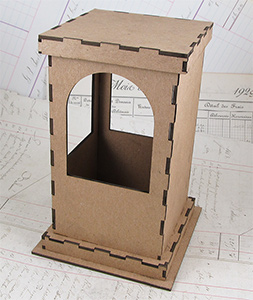 The Old Folly has long remained empty, covered in its climbing vine of roses and ferns, yet when the children come upon it to play, it always feels as if someone has just left.
Once in a while late at night, one child will wake the others and they silently watch the light that gently shines from the wood. It's friendly, gauzy warmth embraces them until they begin to feel quite drowsy and stumble back to their beds. Morning brings sunshine and adventure and the magic moment of the night before is dismissed for a pirate theater and frog catching in the pond.
If they'd followed the friendly light into the wood they might have seen that the light was shining through the shingles of the roof. Looks like someone has a comfy little hiding place where they stash their books and read into the night. Perhaps a child of another sort likes The Old Folly for the same reason the others do? Maybe the big old house is home to more than meets the eye!
Such a clever girl, that Lora! Creating a secret hiding place under the roof, and also hinging the door to the Folly. The Fortune Teller Booth does not come with a door; but if you head on over to Lora's blog, she will tell you how she hinged the door.
Note: we moved the site since Lora's blog post, so use this Supply List link. (And come back to see ANOTHER fortune teller project, new items, plus the sale that includes EVERYTHING in Lora's artwork!)


New Supplies!
I've already mentioned the new mulberry paper flowers (a good size and pretty colors for creating your own folly…maybe adding some greenery).
The new Architectural Borders Rice Paper is such a find! I can see any of those borders at the top of a room box wall (and the rice paper would let color from the wallpaper behind them tint the borders, too).



Madam Rue Gypsy Fortune Teller by Laura Carson

For our second project, we're revisiting Laura's Madam Rue Gypsy Fortune Teller!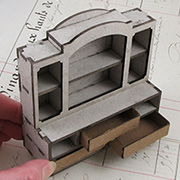 Wow! Believe it or not, this entire project started with that wee hutch at left (just 4″ wide). Laura obviously loves fortune tellers and tents (like this earlier one), and has made this new fortune teller tent full of color and textures (and lots of props)!
Here comes another Halloween project, although I'm thinking gypsies are never out of season.
My choice of a jewel-toned color palette comes from looking at pictures of gypsy caravans where I noticed bright colors, fabrics, beading, fringe and bling.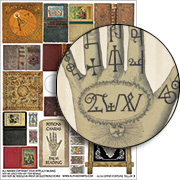 I love the furniture which is made from either a kit or from unfinished wood items. My particular favorite is the 3 Panel Hutch sitting on top of a Library Table. The furniture pieces could easily work standalone or as part of another one of your projects.
Don't sweat the details as there is a video tutorial where I'll walk you through creating Madam Rue's tent.
See everything Laura used to create Madam Rue Gypsy Fortune Teller in her Supply List. And be sure to visit Laura's blog for lots more photos and that tutorial.


NEW: Fortune Teller Booth SALE
This is a coupon sale in honor of BOTH projects above!
Bonus items added to the sale:
– First, both sets of those new mulberry paper flowers (shown again at right)
– Then the 2 items in the free gift set: Antique Silver Fortune Teller Hand Pendant and Bronze Celestial Icons Charm Set
– Finally, I added the Mini Game Spinners Half Sheet (related to Laura's project and fits the Small Brass Arrows for Spinning perfectly!)
Use coupon FORTUNE when checking out to get an additional 20% off on EVERYTHING in this collection!
The sale ends TUESDAY NIGHT, October 18th at midnight PST.
See the entire sale collection here! Over 40 items!

Posted by Leslie, October 16th, 2022