Oh my! These TWO new Simple Vintage October 31st Paper Sets are so fun! Both sizes have a mix of retro images with lots of small patterns (like flying witches and spiders… plus standards like stripes and ginghams).
That 12×12 Essentials Set is HUGE! 187 coordinating pieces (from 12×12 double-sided papers to stickers and die-cuts).
The smaller 6×8 Pad has the same prints in a reduced size plus some larger images (from full page "posters" to 3×4 images).

This is the first of THREE Halloween projects, all using altered Altoids Tins! Plus I made a new collection from the supply lists from all of today's project — and put the group on Sale plus lots of bonus items, too!
I'm not a summer sort of person, but this summer was pretty damned glorious. I know that folks everywhere were battling with the heat and weather… but man oh man it was just about perfect here. I'm going to miss the lazy afternoons I spent on the deck, lounging in the sunshine. Then, just like that, summer left and the autumn winds swept through!
While I'll miss the summer days, I can't help but be excited about the cool autumn air, turning leaves, bonfires, sweater weather and, of course, Halloween.
Inside there's the cutest little cemetery under a happy moon, with a cute little vintage girls under a glittery night sky.
Psst: you'll need to look carefully to see there are 2 tins shown here, each with similar images inside but rearranged. You'll just have to go visit Nichola's blog post for more photos! But use this link for Nichola's full supply list.

Oh… there's a special treat to thank Nichola for! The Gothic Tree & Fence Insert (shown at left inside a tin) was designed to mimic the mix of elements from Nichola's tins (no, she didn't use one of these inserts… they came later).
Custom cut to fit inside an Altoid's tin (well.. the blank ones we carry; an actual Altoid's tin is a hair wider than our blank ones). This is the chipboard insert only (the tin shown in the photo is sold separately).
A Gothic Tree & Fence Insert is FREE with all orders placed today through Tuesday (ends at midnight September 27, 2022)!

Tins #2 and #3 for today are both by Kristin!
I love altered tins. They're a nice small size for a quick project; they're versatile (with a lid as a container? without a lid as a shadowbox?); and they're inexpensive so I don't feel bad if a project doesn't jell.
And I love this adorable Night Witch altered tin by Kristin, made from one of the Wrought Iron Altoids Tin Insert Frames!

It's never too early for Halloween, and who better to announce its imminent arrival than the Night Witch? I was inspired by this cobweb chipboard insert and a lovely deep blue sky scrapbook paper to make (yet another) altered Altoids tin. Plus, I can't get enough of those tiny stars that I used in my "Lucky Stars" shrine so they also play a starring role. (See what I did there?)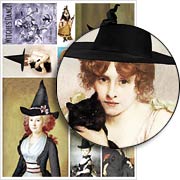 I painted the spider web insert to match the background paper. Normally, I would insert it behind the rolled lip of the tin, but on this project, I liked it sitting on top. While I had my colors mixed, I also painted the wooden stand, and then distressed it with some ink to darken it up a bit. The bat is a plastic cupcake pick with the "pick" part cut off. He's attached to the top of the tin with a little Apoxie Sculpt. I used a toothpick and some red paint to give him some glowing eyes.
I altered the witch image a bit: the hat was given a stripey band and a gold star, and outlined slightly with a gold Sharpie to make it stand out from the background. Then, to make the image more dimensional, I cut out the witch's arms and the cat from a second, identical image. I attached her left arm flush at the shoulder, and used a foam glue dot to elevate the cat and her right arm. The cat's eyes are highlighted with a little green paint and a dot of ink for pupils.
Read more on Kristin's blog post. And be sure to come back to check out the sale that includes EVERYTHING in Kristin's supply list!)


Ghosts in the Graveyard Altered Tin by Kristin (too!)
Kristin's Ghosts in the Graveyard Altered Tin is so perfectly Kristin: beautiful artwork, without a ton of complicated steps and she explains it all (with photos along the way) in her blog post!

Watch out for ghosts in the graveyard! I used an Altoids-sized tin with the lid removed to make some tiny Halloween fun. An insert from Alpha Stamps' Halloween Altoids Tin Inserts set makes a rustic fence and black cat in the foreground of the tin. I painted the insert orange, black and grey, and then added texture to the fence with colored pencils. I used a white colored pencil to outline the edges of the cat to make it pop a bit. The seated cat, front right, is acrylic.
The tombstones were painted (tutorial at the bottom of this post; I love painting tombstones)! In checking to see how the tombstones looked behind the insert, I realized that the two shorter tombstones were getting a little lost behind the fence. I set those two stones up on some foam core (painted black) to make them tall enough to be seen.
Great work, Kristin!! And I agree: "Skeleton arms for that Jack; why not?"
Go visit Kristin's blog post for more steps with photos and here's her supply list!


New Tiny Trims and Charms
Catching up a bit on new items that recently arrived. Those 2 buckles are similar to the tiny ones in Laura Carson's recent Display Furniture for an Antique Shop. These 2 are a bit bigger but no less cute! Plus they have enough embossed detail that they could be tiny trims in a miniature scene.


NEW: Halloween Altered Tins SALE
This is a coupon sale that includes all the supplies from ALL THREE Halloween projects above!
Bonus items added to the sale: ALL six of the items shown below! I picked out bats and stars that can substitute for items in 2 of the tins.
Use coupon HALLO-TINS when checking out to get an additional 20% off on EVERYTHING in this collection! That's 20% off beyond current sale prices!
The sale ends TUESDAY NIGHT, September 27th at midnight PST.
See the entire sale collection here!

Posted by Leslie, September 25th, 2022