What can I say: Chandeliers & Candelabras! This all started with that adorably tiny NEW Rustic Chandelier at right. It's made of 2 laser-cut chipboard pieces that "scissor" together. Note the 4 cross pieces to make little platforms on the arms. (To sit a candle? a tiny bead? an LED light if you've got a really tiny one?)
There are also TWO Candelabras below in the "new" section. So I picked out 2 projects by Laura Carson that used candelabras AND I put all of the supplies from both of Laura's projects PLUS a bunch of extras (candles, candelabras, chandeliers) in a new SALE collection (including the new Rustic Chandelier)!


Dracula's Hearse with Blood Cocktail Mini Bar in Coffin
Wow… Laura is so imaginative! Not only a red and black hearse for Dracula (and his bride), but that traveling mini bar (in a suede-lined coffin)!

There's a photo of the lid of the coffin at left, with a cool coat of arms that's a combo of a collage sheet image (see the next paragraph) with a chipboard crest.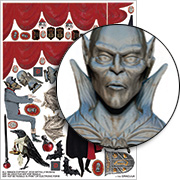 Laura made a Dracula Collage Sheet with all kinds of vampire goodies. Included are Dracula, his bride, faithful raven butler (Belvedere) and wolf driver (Farnsworth). In addition are lots of bits and bobs to deck out a coffin blood bar and a set of curtains that are sized to fit the funeral coach.
I'll let Laura introduce her story:
Dracula and his new bride are on their way to Grimsley Village to spend their honeymoon at the Buzzard Bed and Breakfast.
There is no mistaking Dracula's hearse as it flies by using bat wing power, sporting a red "D" on the windows and Dracula's insignia curtain clips.
With a shortage of young maidens in the area, they make a short stop for refreshments. Dracula and his bride prefer to fly when traveling which leaves the coffin free to transport necessities, in this case a collapsible blood bar stocked with anything a blood sucking creature would want; there's bottled Dracula's Reserve, Chateau Vlad, Dracula's Kiss, Type O and Type AB. On tap is Blood and Hair of the Dog Beer, the latter being Farnsworth's favorite.
Ha! See lots more photos and a video tutorial on Laura's blog post. Here's her full Supply List.

New and Back-in-Stock
Such cute goodies today! Note that chandelier on top of the coffin in the wide photos of Laura's artwork above? That exact chandelier is no longer available but the Gold 3-Arm Candelabra below would make a good substitute sizewise (you could even paint it silver if you're trying to follow Laura's colors). I also added that candelabra to today's sale collection!
Another item from the chandelier theme today is shown below: Antique Bronze Candelabra Charm. Remember Lora Mahaffey's Morticia's Dresser? Two of those candelabra charms were sitting on the dresser (with a skull on the top of each charm). Those charms are ALSO in the sale collection!
Finally: with all those blood bar bottles and drinks, I added some new miniature resin bottles! (See the second row below.)


Beauty & the Beast Triptych
Long ago we had a Beauty and the Beast Kit. And when that kit was announced Laura made this beautiful Beauty & the Beast Triptych using the Taj Mahal Folding Card and the standing structure for a double-sided tritych (yes, there's a whole 'nuther scene on the back).
There's a wee silver candelabra charm on the table (along with a silver teapot). Laura collaged a big bunch of collage sheet images to make here scene (from Beauty and The Beast themselves to the title surrounded by pink roses and the plants in urns behind them).
The clock that's behind the couch is made from a chipboard shape plus Dresden and metal filigree. (Very pretty!)
More photos and details on building up the layers is in Laura's blog post. Here's her full Supply List.


NEW: Chandeliers & Candelabras SALE
This is a custom collection that includes the supplies from both of Laura's projects above!
Plus I added 3 more extras to the sale that weren't already mentioned above (see the first row below).
Use coupon CANDLES when checking out to get an additional 20% off on EVERYTHING in this collection!
The sale ends TUESDAY NIGHT, May 24th at midnight PST.
See the entire sale collection here!

Posted by Leslie, May 22nd, 2022