Ha! A better title might be: 3 not-girly dressers with new resin bottles that are very girly!
THREE interpretations of the Gothic Dresser are shown below, each in a Halloween theme (though a dressing table for Merlin or a fancy witch seem timeless).
They may not be as pretty and pink as these new resin bottles, but they all use lots of bottles and jars (and hand mirrors and beads and…) on top and in ther drawers of the dresser.
The supply lists for ALL THREE projects have been added to a new collection and put on sale! Plus all the new resin bottles, too! More info below.
Note: we moved to a new Web site in 2018, so use the supply list links here on this post rather than the links on the Design Team Member's posts.



Let's start with A Grotty Goblin Dresser by Nichola Battilana!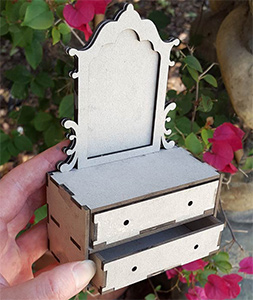 "There's a nice little collection of spooky things on top of that dresser. Just the sorts of items that goblins find useful. And there's plenty of space in those drawers for storing rotten eggs.
"The 'mirror' was made by applying a layer of tinfoil on the base, then adding large flakes of mica around the edge. A bit of staining and then a layer of Diamond Glaze to finish it off. There's a few wobbles and bubbles in there, but one of the very best things about making goblin items is that they don't have to be perfect. In fact, I do believe goblins prefer things that are imperfect!"
Check out Nichola's post for more photos and tips, and see all the goodies she used in her Supply List. (And… nice nail polish, Nichola!)

Next up is another fabulous project using the same furniture: Morticia's Dresser by Lora Mahaffey. I love how it's both clean and pretty (and creepy).
"Here's a little dresser I imagine someone like Morticia Adams would have. It's a little cluttered, a bit Gothic, elegant and feminine without being frou-frou. And a little bit on the creepy side.
"Lots of skulls happening… both large and small. Maybe Morticia is a connoisseur collecting interesting skulls from fascinating places. She must have a sense of humor to put a crown on the big one at the top of her mirror."
See everything Lora used to create Morticia's Dresser in her Supply List. And be sure to visit Lora's blog for lots more info and photos (like the skull drawer handles I don't have space to show). (And tips on things like making custom box feet and using wire to attach skulls to candelabra.)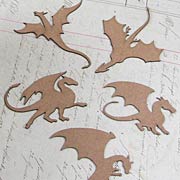 Last up in our trio of Gothic Dressers is a completely different project, by Betsy Skagen: Miniature Merlin's Room. Betsy made a whole room for Merlin (and be sure to check out her blog post, for a tutorial on how she made that textured stone wall, distressing a mirror, and getting those burn marks on the wallpaper — Merlin must have been practicing magic).
Betsy's version of the dresser is more masculine (see the closeup in bottom right of the large photo below). There are dragons on the sides, and maps (or at least rolled parchment) in the drawers.
See everything Betsy used to create her Miniature Merlin's Room in her Supply List.


NEW: Gothic Dresser SALE
This is a custom collection that includes the supplies from ALL THREE art projects AND ALL of today's new bottles!
Use coupon DRESSER when checking out to get an additional 20% off on EVERYTHING in this collection!
The sale ends TUESDAY NIGHT, April 19th at midnight PST. Over 60 items!
See the entire sale collection here!

Posted by Leslie, April 17th, 2022