There's a chain reaction collection of artworks today! It all started with that Unfinished Wood Window Box shown at right: super useful and simple (just 3-1/2″ wide so fits in lots of spaces).
So the first project I thought of with that window box is Teri Calia's Alice in the Library… and Outside shown below. How clever is that?! There's the outside (looking in with Alice standing at the window and that window box below) then flip it around and there's the inside of the library with The White Rabbit lost among the stacks of books.
You can see the side view at the far right of the wide photo (to see how the "both sides" works).
Teri used two of the Gatefold Window Card as the windows (and those window cards are back in stock today, too)!
"I used two of the gatefold window cards to make a sweet little double sided Alice in Wonderland shrine. On one side there is an outside scene with fake grass and a window box and lovely pink roses. You can view the library through the window…"
"On the other side: You can tell you're in the library because there are stacks of books everywhere. The White Rabbit is looking a bit puzzled by the butterfly sitting on a stack of books and perhaps by the mushrooms sprouting out of the floor.
Here's all of the supplies that Teri used in her project (psst: all on sale, too — more info below)!

Ok… this is a bit of a reach. But if you look the photos above for the Unfinished Wood Window Box (or at the window box page itself) you'll see that the window box fits perfectly alongside the Cottage with Open Front (which Nichola used in her sweet art shown at right)!
The Cottage Base is a base for the Cottage with Open Front or any other little shrine you'd like to perch on a 1″ tall base (or have a place to hide wiring in); finished size is 9″ x 9″ x 1″ tall.
I love how Nichola made the floor of the Cottage Base look like real cobblestones. I'm sure she had her mini-minions working and hauling stones for the floor for days!
"One of my very favourite new things from Alpha Stamps are the Silicone Bread and Cake Molds used to make all the treats on the table. I used them with Creative Paperclay, pushing the product in the mold then allowing to dry until the clay was stiff enough to remove without squishing. Don't they look yummy?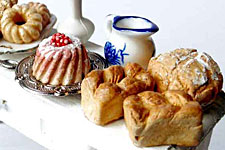 "To finish off the pastries and breads and used acrylic paint and a dusting of chalk pastels. Finish off with a thin layer of Diamond Glaze to achieve a subtle sheen on your crusty breads. Add a thicker layer for to look like a sugared glaze."
Note: Nichola has a tutorial for making the breads and pastries!
Visit Nichola's blog post for lots more photos (note: it's been a fair bit of time since these projects went live so come back here for the Tea Cottage Supply List).

Our final project today is made with the Mini Greenhouse with Stand (and is sooo cute)! Note that you can use the greenhouse separate from the stand if you'd like (the greenhouse portion is 3-1/2″ tall).
Shannon was so gracious to make a fun sample from this greenhouse (in the very short time I gave her… bad me!)
Here's a bit from Shannon's witty post:
"Occasionally, the younger pixies get into a bit more trouble than usual. They might forget to polish the beetles like they were told, or flit too fast through the dandelions and spoil the newly painted ladybirds. They might have even tied one too many knots in the hair of a sleeping child, and that calls for a time out! That is when they get sent off to spend a minute or two in the Pixie Pause Room, where they are supposed to think about what they did (or didn't do) but most likely it is a place to complain about being cooped up unnecessarily for a frightfully long time."
Here's all of the supplies that Shannon used in this project.


Also Back in Stock: A couple more florals

NEW: Is it Spring? SALE
The supply lists for all three projects above have been added to this collection (plus some related bonus items)!
Highlights of a few of the bonus items are at right or below (all as substitutes for items in Nichola's Tea Cottage):
– Unfinished Basic Wooden Table
– Chunky Cubbies Wall Shelf
– Oval White Serving Tray
Use coupon WINDOW-BOX when checking out to get an additional 20% off on EVERYTHING in this collection!
The sale ends SATURDAY NIGHT, March 12th at midnight PST.
See the entire sale collection here!

Posted by Leslie, March 10th, 2022