How cute are those new stickers sets shown at left?! There are 2 new sets (Fern Clear Sticker Set and Mushrooms Clear Sticker Set — more info are both sets is below)… and they inspired me to revisit The Dwarfs' Cottage Altered Tin by Shannon Cooper — and to create a whole sale section from Shannon's supplies AND all the Grimm Fairy Tales Collage Sheets AND more mushrooms (and those 2 sticker sets are included in the sale too)!
Read on as there's lots of tips from Shannon on how she built her cottage, some more new miniatures, and details on the sale collection!


Eek! Isn't this the cutest little cottage you've ever seen? And made from an Altoids Tin! AND Shannon has provided a tutorial for that roof! (Note: since Shannon's project, I added a pre-cut roof based on her design… it's also included in the sale collection.)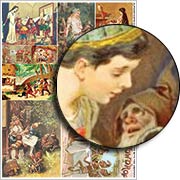 The Dwarfs' Cottage Altered Tin is just perfect: all tucked into the small size of an Altoids Tin, it has a scene inside (behind one of the new insert frames), a little image behind a window at top to make you think there're an attic, hand-made stones (complete with moss and tiny flowers), faux wood trim, and a shingled roof.
"I fell in love with the scalloped insert frames, and was excited to see the newer Fairy Tale Frames Inserts for Altoid Tins.
"I used an image from the Snow White with the Dwarves Collage Sheet and the blank tin to construct the Dwarfs' wee cottage, which has to be a much more pleasant place than a prince's boring old castle. Plus, tiny houses are the way to go.
"The entire cottage is made from just three things: the tin, cardboard, and clay. The stones and wood beams are sculpted from the paper clay and the roof pieces and tiles are cut from cardboard. Super easy!"
Nice work, Shannon! Read more (and see lots more photos and that tutorial) in Shannon's blog post. And here's her Supply List.


New Clear Stickers!
Oh! I kinda love these! Printed on heavy clear stickers (die cut around the shape of each design).
Just bend a corner to peel off the clear plastic backing (note: they are pretty sticky so you can leave the backing on and use them as clear transparencies).
Approx. 40 per set (with a few duplicates but lots of variety):
Fern Clear Sticker Set
Mushrooms Clear Sticker Set


New Miniatures!
Just gotta say: either or both of these items would fit right in with that scene Shannon made (with Snow White cooking a feast — or a tiny antique book of the Brothers' Grimm Tales themselves).
Shown left and right are the new Set of 3 Antique Mini Books and Set of Fancy Silverware.


NEW: Mushrooms & The Seven Dwarfs SALE
This is a custom collection based on the supply list from Shannon's project above! Plus I added ALL the Grimm Fairy Tales Collage Sheets AND extra mushrooms including both sets of the new clear stickers!
Use coupon 7-DWARFS when checking out to get an additional 20% off on EVERYTHING in this collection! That's 20% off beyond current sale prices! Over 70 items!
The sale ends SATURDAY NIGHT, January 8th at midnight PST.
See the entire sale collection here!

Posted by Leslie, January 6th, 2022