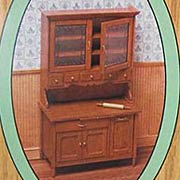 Are you doing some holiday baking? Perhaps making some miniature sweets instead? We received the Kitchen Cabinet Kit this week (back in stock after a fair while) and I remembered that Design Team Member Shannon Cooper used it as the base of her adorable Holiday Sweets Hutch. So we're revisiting that fun project AND I've put everything in Shannon's supply list on sale through Tuesday night (December 14th).
PLUS: as we're getting close to the Christmas holiday (and the postal service is… ahem… unmentionable) I've put ALL Digitals on sale at 50% off! Wow! That's digital versions of ALL collage sheets (not just the Christmas theme) AND the entire Digital Images section! The sale ends FRIDAY NIGHT, December 24th. Go grab some files to prep for Winter artwork! Over 1400 digital items! See them all here.
So back to that postal service: I can't promise that you'll receive a new order with these Christmas minis before Christmas (probably… just not promising). But even if not, you'll have a new project to keep you busy in the cold days 'tween Christmas and New Year. (Yes, a teaser: there will be an end-of-year sale this year, too!)

On to today's cute artwork: I love how Shannon reimagined the Kitchen Cabinet Kit into a market stall (she left off the cabinet doors on the top, and the piece looks like a whole different cabinet painted white).
Here's some intro text from Shannon's blog post (which is filled with tips & how-to photos on making tiny things):
I cooked up a sweet little Christmas Hutch and set it in a mini scene. It is sort of like a market stall, but using a smaller hutch instead. The cabinet is a Chrysnbon kit that I assembled and painted, but using a Wooden Hutch would save some construction time.
There's a lot to look at, isn't there? Haha! Every time I thought I was finished, I saw an empty spot that needed something… The shelves are crammed with glass bottles and jars filled with candies and jams. There is a bowl of lemon drops near a chicken dish, a cookie sheet of gingerbread men, heart shaped sugar cookies, chocolate sandwich cookies, and a classic Yule Log. The ornaments near the gingerbread sleigh are actually glass globes that are filled with microbeads.
My intentions were to hang them on the garland but then I got the cutest cookie cutters on the planet! I fashioned little hooks from wire, glued a snippet of sewing thread in a loop on the back of the cookie cutter, then hung them from the hook. They are my favorite part of the entire project.
The hutch has a slide-y out-y bit (is it a prep area? A kneading board? I have no idea) that I used as a gift wrapping station. The flour bin holds all the gift wrap and ribbon, so it is all nice and tidy.
The dainty pot is kind of a fave, too. (See bottom left of the photo, with the lollipops in it.) It started out terra cotta colored but with a little paint and glitter, it fit nicely between the pudding and the lollies. There is a wider pot in that set also, and I painted it the same way and filled it with gingerbread hearts (to the left and behind the lollipops). Most of the cakes and candies I made from polymer clay, but the round suckers are made from hot glue and colored with Sharpies.
So clever! Thanks, Shannon!
Read more tips (and see more photos) in Shannon's blog post. And here's her Supply List… remember to scroll down and see more about the discount coupon, too!


NEW: Holiday Sweets Hutch SALE
This is a coupon sale in honor of Shannon's project above!
Use coupon HOLIDAY-HUTCH when checking out to get an additional 20% off on EVERYTHING in this collection! That's 20% off beyond current sale prices! Over 35 items!
The sale ends TUESDAY NIGHT, December 14th at midnight PST.
See the entire sale collection here! And remember to use the coupon HOLIDAY-HUTCH when checking out!

Posted by Leslie, December 11th, 2021