What? That is an odd combo. Both both of the art projects below use the (back in stock) Wall Sconce Victorian Coach Lamp so well!
There are also some unfinished wooden shelves (1:12 scale) in stock: one is back in stock (and in the first art project)… the other is a brand new set of wooden store shelves and could fit in the same size room box.
I've created a new sale collection from both supply lists (and I even added the new store shelves to the sale!)
Before diving into the artwork, we have an annoucement: the winner of the Songbirds & Snowy Houses Kit Giveaway is Laura Norman! Check your email for more details.


Victorian Toy Shoppe
Design Team Member Laura Carson is kicking off the Christmas season with a Victorian Toy Shoppe! It is delightfully whimsical and makes you wish you could live in the wonderment of a 5 year old, just for a bit.
"It's Christmas time in Victorian England and Mr. Brimble's Toy Shoppe is filled with things to delight both young and old. The village children wait in anticipation to see what new toys will fill the windows.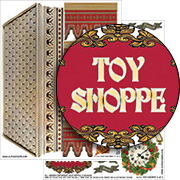 "Things are looking so cheerful at the shoppe. Notice the lovely lighted lamps above the bay windows and so many wonderful toys that fill the windows. Looks like Mr. Brimble is pulling out all the stops for this holiday season!
"Now I will let you in a little secret and I think you'll be surprised. The Victorian Toy Shoppe is constructed from pre-made chipboard kits which simplifies the construction process tremendously. If you can paper, paint and glue you can make a toy shop!
"The basic structure is one kit that fits together with tabs and groves. I also used three Bay Window Kits attached to the front and both sides. Then I went crazy with paper and paint."
Laura created 5 collage sheets for this project (that are on the supply list) and if you go to her blog post you can see many more pictures, a plethora of details AND an amazing tutorial!

Marie Opera Comique Theatre

Marie Antoinette Aficionado, Tristan Robin Blakeman, has a gorgeous theatre he's going to tell you about.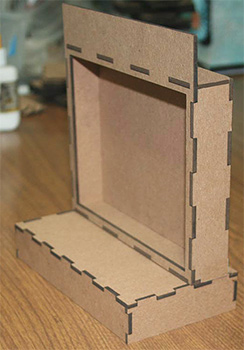 "This structure was begun with one of Alpha Stamps most versatile shadowboxes: the Square Shrine Shadowbox. Turned one way you get a wonderful little room or theatre with a 'header — turned upside down and add wheels and away you ride in a coach!
I also added three of the WONDERFUL miniature Victorian Coach Lamps across the back; a little luxurious perhaps – but I think Marie and her theatre are worth it!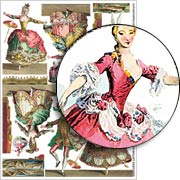 The stage Marie and the large Marie are 2 images that started as the same size (both from the French Ballet Costumes Collage Sheet); just printed at different percentages. The side panels with the columns and guards were cut from a collage sheet and added "wing style" to the sides of the theatre. From the front they look like they're part of the architecture; when actually they are just deceiving to the eye!"
Here's the Marie Opera Comique Theatre Supply List. For more details (like what percentages to print the Marie images at!) and photos, head on over to Tristan's blog.

NEW: Toy Shoppe or Marie Theatre SALE
This is a coupon sale in honor of BOTH beautiful projects above! Plus I added the new Unfinished Wooden Store Shelves (shown at right) as they could be a substitute for the wide shelves in the Toy Shoppe!
Use coupon COACH-LAMP when checking out to get an additional 20% off on EVERYTHING in this collection! That's 20% off beyond current sale prices!
The sale ends SATURDAY NIGHT, November 6th at midnight PST.
See the entire sale collection here! And remember to use the coupon COACH-LAMP when checking out!

Posted by Leslie, November 4th, 2021