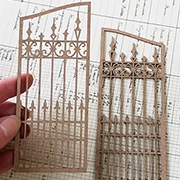 We're revisiting one of my favorite Halloween projects by Laura Carson (and part of her multi-year Grimsley Village)! Laura started with the Wrought Iron Cemetery Gate (also shown at left), the related Arch for Cemetery Gate (with the word CEMETERY spelled out), and (many sections of) 4.5 Inch Tall Wrought Iron Fence to surround her cemetery — and the project grew (and grew)!
It's a very good thing that Laura has provided a video tutorial. I've picked out a couple examples of how she made parts of the cemetery in photos below. More photos are on Laura's blog post. Note: as we moved to a new Web site in 2018 the product links on Laura's site no longer work. However, you can see her extensive Supply List that are still available on the new site.
Read on as there's tons of eye candy, and there's a new Forsaken Cemetery SALE too!!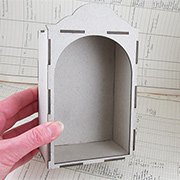 I love this little angel shrine, in the top left corner of the cemetery (also shown in a wide photo below, with a preview pic from Laura's tutorial on how she mounted the angel from her Forsaken Cemetery Digital Images Download Set on chipboard for strength and with a painted tea light as a base, so you can remove the whole unit to turn the light on & off). That particular image is not in the related Forsaken Cemetery Collage Sheet, but a ton of tombstones and statuary are included.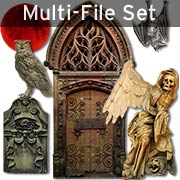 Laura used the Arched Shrine Shadowbox as the building/tomb the angel is in (with the Wrought Iron Gate for Arched Shrine Shadowbox in disarray). In front of the angel shrine, I spy one of the Miniature Reliquaries used as a tombstone for "Anita Shovel" (yes, there are many puns).

Next on my mini tour: I've zoomed in on the photo (below), so you can see the cemetery gate and arch in use (and I highlighted a piece of the gate on the far right so you can see how Laura painted it — and secured it with chains and a padlock). I also spy a couple of Antique Bronze Skull Connectors.
Thank you, Laura! Such an inspired and detailed project! Here's everything in Laura's (HUGE) supply list — all included in today's sale!


NEW: Forsaken Cemetery SALE
This is a coupon sale in honor of Laura's amazing project above! Plus I added a couple bonus items (shown at right) as the selection of miniature groundcover has changed since the original project.
Use coupon CEMETERY when checking out to get an additional 20% off on EVERYTHING in this collection! That's 20% off beyond current sale prices!
The sale ends SATURDAY NIGHT, October 23rd at midnight PST.
See the entire sale collection here! And remember to use the coupon CEMETERY when checking out!
And don't forget to visit Laura's blog post for tons more photos, tips and a video tutorial!

Posted by Leslie, October 21st, 2021