But first: Halloween artwork! I picked out 2 projects using the Mini Conservatory Accordion Book (one Halloween themed and one not). AND I've put the supplies for BOTH of them in a new collection and created a discount code for 20% off those supplies! More info on the sale is below (and remember that all of the supplies mentioned 'tween here and there are included in the sale)!
AND as it's a holiday weekend here in the U.S. (and we're getting closer to that witching hour)… ALL Halloween Collage Sheets are on SALE at 30% off! More info on both sales is below!


Halloween Row Houses by Design Team Member Kristin Batsel
From Kristin's original blog post:
I know Halloween is quite a ways off (!), but it's one of my favorite themes to craft for, so when I got the current Alpha Stamps kit and it contained a row of funny little houses, I knew what had to be done.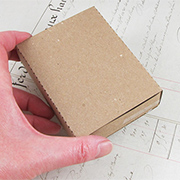 The houses are quite small, and just so happen to fit in a 3″ by 4″ matchbox, which I also gave a Halloween look. I painted the outer sleeve black and added scrapbook paper and collage sheet images. The black border around the cat is printed on a clear sticker. I left the ends of the inner box plain, to resemble an actual matchbox.
More info is in the original blog post and/or see Kristin's supply list (on sale, too… see below for info on the discount code).


Miniature Conservatory by Laura Carson
Oh… this is so pretty! Laura made a Miniature Conservatory (with faux stained glass windows) that would be beautiful sitting on a windowsill.
Laura used 2 of the Mini Conservatory Accordion Books (and cut the panels apart so she could sandwich stained glass "windows" between each of the 2 matching panels). She then used metal hinges to reconnect the panels together.
Laura decorated both sides (the photos above and below show different sides — the far right brick paper on the photo above is the same end panel as the far left panel on the wider photo below).
More info and photos in Laura's original blog post, and here's a link to see all her supplies.


NEW Sale #1: Mini Conservatory Book!
This is a coupon sale that includes all the supplies from BOTH projects above!
Use coupon CONSERVATORY when checking out to get an additional 20% off on EVERYTHING in this collection! That's 20% off beyond current sale prices!
The sale ends SATURDAY NIGHT, September 4th at midnight PST.
I've already highlight quite a few of the sale items above with each project, but 3 more are shown below. See the entire sale collection here! Remember to use the coupon CONSERVATORY when checking out!
NOTE: ALL the Halloween Collage Sheets are already on sale, including these in Kristin's artwork!


NEW Sale #2: Halloween Collage Sheets!
30% off on EVERYTHING in this collection! Tons of options… over 180!
Reminder that these 8 Halloween collage sheets in Kristin's artwork are included in this sale, too (and 3 are shown below).
The sale ends MONDAY NIGHT, September 6th at midnight PST.

Posted by Leslie, September 2nd, 2021