Eek! So much Halloween goodness today! Starting with those tiny acrylic shapes at right (new and exclusive)! And though they are not included in the artwork/supply lists of the THREE projects today, I've included them in today's new sale, too!
So… spooky bricks! The Red Brick Wall Scrapbook Paper is back in stock and there have been tons of cool projects using it. And since we're speeding toward Halloween, I've picked out two haunted houses by the Design Team that used that paper. Plus the Large Blue Mosaic and Seize the Night Scrapbook Papers are back in stock, too, so I added some beautiful tarot cards by Miz Bella (Kimberly Ayers) with those papers as backgrounds.
AND I've put the supplies for ALL THREE of these projects in a new collection and created a discount code for 20% off those suppiles! More info on the sale is below (and remember that all of the supplies mentioned 'tween here and there are included in the sale)!

Wow! This is such a great haunted house! Nice, sharp contrasts with all the orange and black (and a few extras like purple).
A little haunted house shadow box today. Inside a collection of spooky ooky bits…
I've kept the little spaces pretty simple and haven't cluttered them up too much since they'll be covered by the house exterior most of the time.
If you know me at all, you know I'm a bit lazy when it comes to hinges. I've opted to not have hinges in this piece at all and simply use a length of ribbon that is tied around the back and hold the front of the front facade in place.
What a fun mini haunted house! More info is in the original blog post and/or see Nichola's supply list (yep… on sale, too… see below for info on the discount code).


Tarot Cards by Miz Bella
Oooh! How beautiful! These Tarot Cards look vintage with the dark sepia and blue colors. And they are a cinch to make, even though they look so rich.
Bella used 2 each of the Spider Web Wrought Iron Playing Card and Stars Playing Card as her base.
Plus she used a deep blue background from the Seize the Night Scrapbook Paper. One of the cards has a diamond-shaped frame in the center, cut out from the Large Blue Mosaic Scrapbook Paper.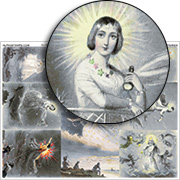 And, of course, the stars of these cards: the ladies from The Star Fairies Collage Sheet.
Nice work, Bella! Learn more about the project in the original blog post and see all the goodies she used in her Supply List (and remember all those items are on sale — see the bottom of this post for more info).

Laura used the Large Haunted House Frame Set and trims, related to the smaller shadowbox in Nichola's project.

When thinking about projects for this Halloween season, I realized that in the hundreds of Halloween pieces I've made, none of them are ghost themed so I've rectified that with a ghost-themed project and new ghostly images.
On the edge of Grimsley Village is crumbling brick house. It's had many residents during its life; some of which have died and now haunt the house.
The house is crumbling with piles of bricks blocking the door and holes in the roof…
I love all the distressing Laura did (and tearing away parts of the roof and walls). And the faux metal patina on that Bat Border on top of the roof is so pretty and rich!
More info is in the original blog post and/or see Laura's supply list.


More New Supplies!
New and back-in-stock items! With all the art projects scattered about today, here's a single link where you can view all the new or returning supplies.


NEW Sale: Spooky Bricks!
This is a coupon sale that includes all the supplies from ALL THREE projects above!
Bonus: I also added the three NEW tiny acrylic shapes to the sale, too!
Use coupon SPOOKY-BRICKS when checking out to get an additional 20% off on EVERYTHING in this collection! That's 20% off beyond current sale prices!
The sale ends SATURDAY NIGHT, August 28th at midnight PST.
I've already highlight quite a few of the sale items above with each project, but 3 more are shown below. See the entire sale collection here! And remember to use the coupon SPOOKY-BRICKS when checking out!

Posted by Leslie, August 26th, 2021