It's back! The Voyage Beneath the Sea 8×8 Paper Pad has beautiful bright Caribbean colors with seahorses and mermaids (and some steampunk elements, too).
Oh, and a treat! When we last had this pad (5 years ago — yikes!) the Design Team made some amazing artwork so I've picked out 3 to highlight (2 immediately below, both using the 3D Treasure Chest that was new at that time, and the 3rd project down in today's Giveaway)!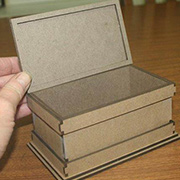 That Steampunk Mermaid Box (above left) was created by Guest Designer Rhea Freitag. Isn't it amazing! I love all the texture (and the mix of metal and chipboard… and mermaids and gears). Here's the original post with more info, and the supplies still available.
The Sea of Wonders Treasure Chest (above right) was made by Design Team Member Kristin Batsel
So bright and colorful — and so clever!. Here's a bit of text from Kristin's blog post:
"When you open the lid: treasure! This chest is the perfect size to hold three matchboxes side by side. In fact, they fit so perfectly that instead of covering the outsides of the matchbox with paper, I used the paper itself as the outside cover, which allows them to all fit without being too tight.
"The drawers of each matchbox have a patina conch shell charm on the front. Pull on that to view the contents of the drawers."
Note: this project was before we moved the site in 2018, so you can see more pics & read more on Kristin's post but use THIS supply list link.

What else is new today? More Miniatures!
I gotta say: all of these new items coordinate so well color-wise with the beachy art & papers shown above! Plus I'm outta space so one back-in-stock beachy charm is shown below in the Giveaway!

Sweet! These supplies include lots of chipboard shapes but also a few oddballs like molds and resin starfish cabs. ("Oddballs" as all these items are from the "collage supplies" section: not other sections like the seashell charms.) All on sale at least 25% off! Over 30 items!
The sale ends SATURDAY NIGHT, June 12th at midnight PST. See the entire sale collection here!


Under the Sea Giveaway!
Hey, I promised you more artwork, and this tiny project does not disappoint! Design Team Member Nichola Battilana made a beautiful shrine (and smaller than you might think) with the Tiny Matchbox Theatre, mixed with papers from the Voyage Beneath the Sea Paper Pad.
I love these little theatres! Tiny chipboard shadowboxes with a wrap-around cover like a matchbox. Now I'll let Nichola talk, as she speaks so eloquently (that girl must be part fairy… or sea nymph):
Some people have sea water in their blood. They love the sea like I love the moon. While those waters may not run quite so deeply for me, I appreciate the beauty of the barnacled.
The base of this piece is a Tiny Matchbox Theatre. I do love theatres (and an underwater one would be amazing!) but instead chose to make mine into a sort of underwater pocket shrine.
Note (again): this project was before we moved the site in 2018, so you can see more pics & read more on Nichola's post but use THIS supply list link to see all the supplies still available… AND all of those supplies are included in this prize!
Plus I'm adding THREE more items shown below:
– Patina Scallop Shell Charms (back in stock)
– Patina Sea Horse Charm (a substitute charm for the seahorse in the bottom left of the cover of Nichola's artwork)
– Pink Mermaid Sequin Mix (another substitute for the sequins used all over the place — and they're part of the new sale)
To enter the Under the Sea Giveaway drawing all you have to do is leave a comment BELOW on this blog post TODAY or TOMORROW (the deadline is 11:59 pm PST, FRIDAY Night, June 11, 2021).
And tell me: what will you make with these supplies?
Don't forget to leave your (hello!) correct email address, too, so I can contact the winner; your email address does not need to be made public. Note: I'm offering free shipping, too, but only within the USA. International shipping will still apply.
Please be patient! Spammers try to post crap here a lot so comments are moderated. So if you don't see your post in the comments section, be patient and check back in a few hours before re-posting it, please!
The Moldy Morty's Market Giveaway winner from the last newsletter? Drum roll, please: The winner is Joanne Scott! Please check your email for more information.
Now don't forget the Beachy Collage Supplies Sale ends Saturday night!

Posted by Leslie, June 10th, 2021