Lots of new and long-awaited back-in-stock items today! Let's start with these new Cottage Fields Scrapbook Papers: shabby and floral and I love the inclusion of black. That polka dot print on one of the backs will be useful for (hm… may I say it this early…) Halloween!
Miniatures for a Lady's Dressing Table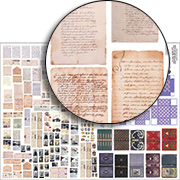 Just look at the teeny-tiny, perfectly appointed dresser by Teri Calia! I love all the details, like the tiny bundles of love letters tied in ribbons. And the tiny letters themselves (and tiny perfume bottle labels) are from Teri's A Lady's Boudoir Ephemera Collage Sheet! Plus book covers and lavender 2-part gift boxes! (Psst: this sheet inspired today's sale — more info below.)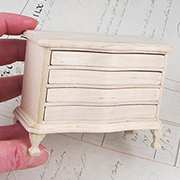 Teri must have spent days painting and sanding the Unfinished Wooden Dresser… it looks great (and aged like an antique dresser). As you can see, the drawers of the dresser can be opened. The set includes brass hardware (though Teri substituted her own, tiny roses sculpted from polymer clay).
Here's Teri's supply list, including the back-in-stock wooden dresser and the Victorian Dressing Table Set shown below.
What else is new today?
Ooh… raw brass versions of some popular filigree! And back-in-stock items, too: it's been MONTHS since I could get those Crows and Candle Sets! See all the new items here.
Geez… I hate to even mention this but: I hope you are snug and warm and can consider a long weekend of crafting. Here's a 50% off sale on ALL Art Nouveau Collage Sheets! Note: I've also included the Tallulah's Collage Sheets as many of those are from the Art Nouveau era, too. Over 70 items including that A Lady's Boudoir Ephemera Collage Sheet shown above that's in Teri's artwork!
The sale ends SATURDAY NIGHT, February 20th at midnight PST. See the entire sale collection here!
Posted by Leslie, February 18th, 2021