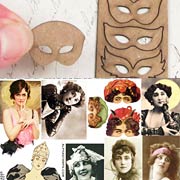 NEW Mini Masks FREE Gift Kit! In honor of Fat Tuesday next week, the new Roaring 20s Scrapbook Papers (and artwork below from Design Team Member Shannon Cooper), I put together a mini mask set AND a collage sheet with ladies sized to fit the masks! (See the preview at right.)
I'm assuming most Mardi Gras festivities are pretty toned down this year, but that won't stop making artwork!
ALL ORDERS on Thursday through Saturday, February 11th through 13th (2021) will receive one of these collage sheets and the mini set of 4 laser-cut masks FREE!
A BIG NEW SALE: 50% off on Art Deco & Carnival Collage Sheets! The sale ends SATURDAY NIGHT, February 13th at midnight PST. See below for a few highlights! (The Secret Collage Sheet at left is part of the sale and also used in the artwork below.)


Revisiting Shannon Cooper's Mysterious Masquerade Altered Tin
You may remember this beautiful altered tin that Shannon made a few year's ago. It uses part of a Small Quatrefoil Panel in the background (and you can just make out a masked lady hiding behind that screen).
Plus the main image is from the The Secret Collage Sheet mentioned above (and part of the sale).
How regal with that crown (actually just a piece of a Chipboard Fleur Border, bent into a curve and attached to the top of an Altoid's Tin)!
And see that swirly frame at the bottom of the tin (framing the "Mysterious" text)? That's from the Fairy Tale Frames Altoid Inserts Set (a big set with 3 options of inserts & matching frames).
See more photos (and tips) on Shannon's blog post!
Here's a link to all the items still available from the supply list. And check below in the Giveaway to enter the drawing for supplies from this project!


What else is NEW today?
Tons of yummy things for an Art Deco or Mardi Gras project! Plus a couple welcome back-in-stock items for spring: White & Pink Iced Brioche and Silly Pink Bunny Rabbits.
Just one of the new Roaring 20s Scrapbook Papers is shown below… pics of 2 more are down in the Giveaway section.
See all 11 new/back-in-stock items here.


Art Deco & Carnival Collage Sheet 50% off Sale Highlights!
There are some unexpected items in this theme, too (there's some overlap with Halloween, summer/beach and winter holidays).
See the sale collection here! (Over 50 choices!)


Mysterious Masquerade Altered Tin Giveaway!
Let's start with EVERYTHING in Shannon's Supply List! That includes 2 collage sheets, the tin and 3 chipboard embellshments.
Plus the 3 items in the row below (below the photo with more views of the artwork):
– There's the other 2 of the Roaring 20s Scrapbook Papers (but the winner will actually get all 3 of those new papers)
– Tiny Mask Set (that's the full set of tiny masks, related to the set of 4 in the free gift mentioned above).
To enter the Mysterious Masquerade Altered Tin Giveaway drawing all you have to do is leave a comment BELOW on this blog post TODAY or TOMORROW (the deadline is 11:59 pm PST, FRIDAY Night, February 12, 2021).
And tell me: what will you make with these supplies?
Don't forget to leave your (hello!) correct email address, too, so I can contact the winner; your email address does not need to be made public. Note: I'm offering free shipping, too, but only within the USA. International shipping will still apply.
Please be patient! Spammers try to post crap here a lot so comments are moderated. So if you don't see your post in the comments section, be patient and check back in a few hours before re-posting it, please!

Posted by Leslie, February 11th, 2021