I should have said LOTs of new snowflakes! From shiny mylar and sequins to chipboard (like the Fancy Flakes Snowflake Set shown at right — and more are directly below).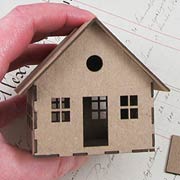 PLUS we've revising an adorable Holly Jolly Christmas House that Design Team Member Kristin Batsel made a coupla years back (which inspired today's new Sale — ALL Houses, including small ones that are a perfect size for Christmas ornaments)!


More NEW Snowflakes!


Holly Jolly Christmas House by Kristin Batsel!
Kristin used the House Ornament, and lots of the coordinating add-ons (like window trims, dormers, and a tiny fence) — all of those are included in today's sale!
I love the way Kristin's little house turned out! So cheery and inviting. Good thing she provided a tutorial, too! For things like how to apply tissue paper behind tiny windows and leaving room to glue down all your little items (like the peppermint stepping stones).
And check out the middle photo in the bottom row: The house lights up with a tea light.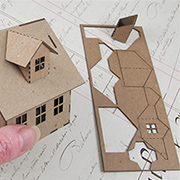 "This little house stands only about 3" tall, not counting the base. It was made from a kit, and if you read on through to the bottom of my post, I'll talk about how it was put together. Meanwhile, here are some more photos. The tiny family who lives here sure did a good job of decorating the tallest tree! It's easy to attach the beads; I just dipped them in some tacky glue and stuck them into the branches.
"You can totally fence your house in, or you can use an xacto knife to cut a little gate. I think it looks nice to have an open gate with the pathway leading to the front door."
Learn more in Kristin's post and don't forget to see everything from Kristin's Supply List. (Plus see below for more info on the related new sale!)

This is a special sale inspired by Kristin's Holly Jolly Christmas House! This collection includes tons of houses: chipboard houses to decorate; resin or ceramic 3D houses; even metal lighthouse or haunted house charms! Over 70 items!
Here are the sale highlights:
– 25% off on EVERYTHING ELSE in this collection!
– Anything on clearance in this group is marked down to 50% off!
The sale ends MONDAY NIGHT, November 16th at midnight PST. See the entire sale collection here!

Here's examples of clearance items in the sale (50% off)! (That should be more examples as that blue resin house above is also on clearance!)

The sale ends MONDAY NIGHT, November 16th at midnight PST. See the entire sale collection here!
Posted by Leslie, November 15th, 2020