Reminder: The Design Team Call is still open! Note: you can apply as a paper crafter, collage artist, rubber stamper or miniaturist! Short story: deadline for submissions is January 31, 2019. Looking forward to seeing your artwork!

Hey, do you remember the Olde Curiosity Shoppe line of scrapbook papers? Waaaaay back in 2012 (wow!) we first we carried them as single scrapbook papers, and now they're back as a Deluxe Collector's Edition!
In addition to TWO EACH of all TWELVE double-sided cardstock sheets from the original collection (12″ x 12″) this set also includes:
– one 12″ x 12″ sticker sheet (cardstock weight)
AND
– one 6″ x 12″ sheet of chipboard die-cuts (a few are shown at right)
The Olde Curiosity Shoppe Deluxe Collector's Edition 12×12 Pack has got tons of great imagery, from bees and butterflies to potion bottles… and flying pigs?
FLYING PIGS? That reminded me of this great project Design Team Member Kristin Batsel made: A Cabinet of Curiosities (see the photos below). It was made using a garage sale find as the main structure, but Kristin gave step-by-step instructions on sizing papers to fit little cubbies & tips on getting everything planned out for a project with about 50 components. You can still see Kristin's tutorial on her original project (NOTE: the links on that old post no longer work, though you can still view all the photos and read about the steps. HOWEVER, there is still a current supply list.)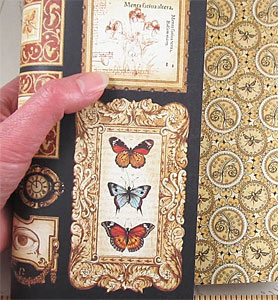 MORE ARTWORK? Wow! That beautiful shadowbox below was made using the original Olde Curiosity Shoppe papers by then Design Team Member Rhea Freitag.
Except for a few bits & bobs (like clocks or glass bottles), pretty much everything in the shadowbox is paper from Olde Curiosity Shoppe!
Certainly not as many cubbies as that wooden faux-printer's tray that Rhea used, but you could make a similar (if smaller) scene in a shadowbox with the Back in Stock 6×6 Shadowbox (at right).
Psst… see that close-up on the right side of the wide photos below, with the little clock on top of a larger pocket watch: that paper behind the clocks is one of my favorite prints from the collection: BEES! (It's the backside of a page called "Parlor Wall"… see a photo of me hold a sheet at left.)



Hooray for the MORE BEES are Back Giveaway!
I know! MORE beautiful artwork! We are just getting overwhelmed with eye candy today: the Of Summer & Bees Reliquary at left was made by Design Team Member Nichola Battilana (ages ago but it is well worth revisiting… and TWO of the bees used in it are Back in Stock)!
I'm including EVERYTHING in Nichola's supply list in today's Giveaway! That includes:
– Arch Top Reliquary Triptych
– Honeycomb & Bees Die-Cut Chipboard Set (Back in Stock)
– Faux Metal Number Plates
– Giant Bronze Bee Charm (Back in Stock)
Just click on this Supply List link for photos and links to everything in Nichola's artwork, which are also all included in the Giveaway!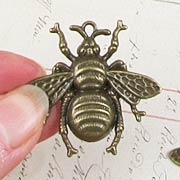 To enter the MORE BEES are Back Giveaway drawing all you have to do is leave a comment BELOW on this blog post TODAY or TOMORROW (the deadline is 11:59 pm PST, Monday Night, January 21, 2019).
Don't forget to leave your (hello!) correct email address, too, so I can contact the winner; your email address does not need to be made public. Note: I'm offering free shipping, too, but only within the USA. International shipping will still apply.
Please be patient! Spammers try to post crap here a lot so comments are moderated. So if you don't see your post in the comments section, be patient and check back in a few hours before re-posting it, please!
After midnight, I'll randomly pick the winner (via Random.org).
Hey, who won the Tiny Bus Stop Giveaway from Thursday's newsletter? That would be Jen J! Congrats! Check your email for info.

Posted by Leslie, January 20th, 2019