Oh… so many pretty things to fit in today, I'll jump right to it: we have artwork from TWO talented artists, plus new miniatures, and a new FREE gift!
Starting with this Secret Garden by Design Team Coordinator Miz Bella (Kimberly Ayers)! Bella used this month's kit as the base and obviously had fun decorating. Beside the cover and a couple of the inside pages directly below, there's a close-up of a fop farther below… hiding in the greenery? Caught in the greenery? I'm not sure but he's great!

You might not be able to tell from the photos, but this is a small book (that Mini Conservatory Accordion Book is just under 4″ tall).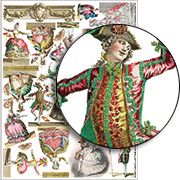 The images throughout are from the Mini French Ballet Costumes Collage Sheet, which might help with scale.
See more photos in Bella's blog post. And see all the supplies used.
Moving on to another accordion booklet, this one housed inside a hinged set of Altoids Tins, by Design Team Member Laura Carson! Laura has made a series of these hinged-tin projects:
– Birdie Darling (which led to today's new free gift kit… and a close-up from that tin is below), and
– an Alice in Wonderland Book using leftover lids from Altoids Tins as the covers (a little preview of it is below).
Note: There are more photos and links to her earlier hinged tins on her blog post (including more than just the 2 I mentoned). AND a video tutorial on making altered tins.
But back to today's fabulous altered tin: Remnants of the Past Altered Altoids Tin uses TWO new collage sheets by Laura created just for this project! See the big, wide photo grid below!

I hope I captured enough images to show how it works: the top right shows the body of 2 tins hinged together (that's the side view, showing the clasp side, not the hinges on the hidden side). On the left of that is the inside of the tin when you first open it (the accordion booklet is still folded up and held in place by the piece of lace).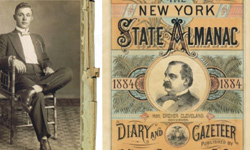 Then the wide photo under those 2 shows the booklet after you untie the lace bow and stretch it out… so pretty, and creative!
Laura used papers from the Architextures 2 8×8 Paper Pack as a starting point, then lots of images from her 2 new collage sheets.
See all the supplies Laura used. PLUS check the Giveaway below for another photo AND a chance to win EVERYTHING in the supply list from Laura's project!

Lovely New Goodies! – ALL on Sale!

NEW Bronze Embellishments FREE Gift Kit!
I was inspired by all those loverly hinged tins that Laura made and picked out FIVE bronze metal bits that would fun to use on a similar project (photographed in half a tin so you can see the size):
– Bronze Swallow Charm (this one was used in Laura's Birdie Darling tin, too — see the close-up at right. AND it's on clearance sale!)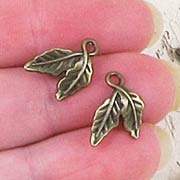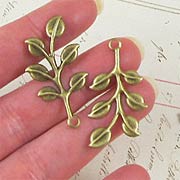 – 20mm Leaf Sprigs (part of the related sale… see below)
– Wide Brass Filigree Header
– Large Openwork Bronze Fan Charm
– 16mm Bronze Crown Charm
ALL ORDERS now through Monday, July 2nd (2018) will get one of the new Bronze Embellishments for an Altoids Tin Gift Kits FREE!



Hooray for the Hinged Tins Giveaway!
Ah… a close-up of the accordion booklet, as it is escaping (?) the tin…
Yep, I said it: EVERYTHING in Laura's supply list is in today's Giveaway! (10 items!)
It's deceptively simple (this supply list): such a rich, nostalgic project from just 10 items!
A couple highlights:
– I'm including TWO Altoids Tins, so you can replicate the hinged-tin project.
– The Architextures 2 8×8 Paper Pack includes 12 designs. The prints include travel, cooking, seaside and photography themes: 24 double-sided sheets. That black tiny print on the sides of the tins is from this paper set.
– The accordion-book pages need to stay flat so they can fold up inside the tin, so the 3D embellishments in the list are on the outside of the tin (you'll need to visit Laura's blog to see them), but the white and peach tiny paper roses included are from the covers.
Yes, all those things in Laura's supply list are in today's Giveaway!
BONUS: I'm including one of the Bronze Embellishments for an Altoids Tin Gift Kits.
To enter the Hinged Tins Giveaway drawing all you have to do is leave a comment BELOW on this blog post TODAY or TOMORROW (the deadline is 11:59 pm PST, Friday Night, June 29, 2018).
AND tell me: Will you make a vintage-themed accordion book in a hinged tin? Or try another hinged-tin project from one of Laura's earlier projects?
Don't forget to leave your (hello!) correct email address, too, so I can contact the winner; your email address does not need to be made public. Note: I'm offering free shipping, too, but only within the USA. International shipping will still apply.
Please be patient! Spammers try to post crap here a lot so comments are moderated. So if you don't see your post in the comments section, be patient and check back in a few hours before re-posting it, please!
After midnight, I'll randomly pick the winner (via Random.org).
Hey, who won the Halloween Row Houses Giveaway from Sunday's newsletter? That would be Karen Crawford! Congrats! Check your email for info.
Posted by Leslie, June 28th, 2018