Squeee! Another chance to bring out Halloween early! Beside the fabulous artwork today (by Design Team Member Kristin Batsel) there are also new chipboard bat and spider web borders, and miniature tinsel/fluff in Halloween colors!
Kristin turned the Mini Conservatory Accordion Book into a set of Halloween Row Houses, with their own Halloween matchbox to package them in. Look how cool:

From Kristin's blog post:
I know Halloween is quite a ways off, but it's one of my favorite themes to craft for, so when I got the current Alpha Stamps kit and it contained a row of funny little houses, I knew what had to be done.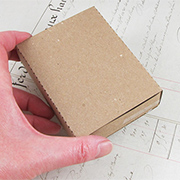 The houses are quite small, and just so happen to fit in a 3″ by 4″ matchbox, which I also gave a Halloween look. I painted the outer sleeve black and added scrapbook paper and collage sheet images. The black border around the cat is printed on a clear sticker. I left the ends of the inner box plain, to resemble an actual matchbox.
Beside the photos above, there's another photo down in the Giveaway section, where you can enter to win EVERYTHING from Kristin's supply list! And be sure to visit Kristin blog for more photos and tips.

Hooray for the Halloween Row Houses Giveaway!
I think Kristin gathered images from about 20 Halloween collage sheets for her miniature project (ok, I just counted and it's actually 9 — but that's a lot for a little book that's only 4″ tall)!
EVERYTHING in Kristin's supply list is in today's Giveaway! (14 items!) Here are a few highlights from that multitude of collage sheet images:
– Halloween Clock Spinners Collage Sheet (the black cat on the cover of the matchbox)
– German Expressionist Horror Collage Sheet (the image behind the black window frame in the right half of the close-up at left… yes, that would be from The Cabinet of Dr. Caligari)
– Mini Halloween Costumes Collage Sheet (that fun bee costume on the left side of the same photo; plus the running pumpkin-headed girl on the right side)
– B&W Halloween Borders Collage Sheet (the border around the cat on the cover of the matchbox — printed on clear sticker stock)

Click here to see everything in Kristin's supply list, which is also what's in today's Giveaway! Lots more goodies to see (including black lace and Dresden trims)!
Bonus: One of the Paper Flower Nosegay Gift Kits! (I'll make sure to include some orange and purple colors so it will fit in with a Halloween project.)
To enter the Halloween Row Houses Giveaway drawing all you have to do is leave a comment BELOW on this blog post TODAY or TOMORROW (the deadline is 11:59 pm PST, Monday Night, June 25, 2018).
AND tell me: What is your favorite detail (or panel) from Kristin's project?
Don't forget to leave your (hello!) correct email address, too, so I can contact the winner; your email address does not need to be made public. Note: I'm offering free shipping, too, but only within the USA. International shipping will still apply.
Please be patient! Spammers try to post crap here a lot so comments are moderated. So if you don't see your post in the comments section, be patient and check back in a few hours before re-posting it, please!
After midnight, I'll randomly pick the winner (via Random.org).
Hey, who won the Hufflepuff Box Giveaway from Thursday's newsletter? That would be Celia! Congrats! Check your email for info.
Posted by Leslie, June 24th, 2018