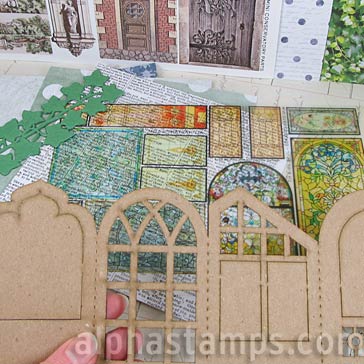 Based on the popularity of the Matchbox Skyline Book, I designed a Mini Conservatory Accordion Book (approx 4″ tall and with lots of window options). This little book was the starting point for this new kit.
And I found this lovely, new (large… 24 different designs!) paper pad: Wandering Ivy 12×12 Paper Pad. The kit includes a 6″ x 6″ (quarter page) for ALL 24 pages! Tons of paper!


Back to the book itself, some of the photos on the separate book page show keeping one side of the tabs intact to make "openable" doors. Or you can remove the doors entirely and make an accordion book to sit backlit on a windowsill with faux stained glass in the windows? (See Laura Carson's beautiful artwork below for just such a project.)
The kit also includes: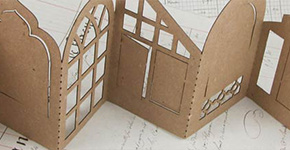 – One vine from the new Green Embossed Dresden Ivy Leaves
– The new Mini Conservatory Parts Collage Sheet (Tons of little windows, doors, statues, plants & trims: all sized for the Conservatory Accordion Book.)
– Finally, a collage sheet exclusive to the kit: A Mini Stained Glass Collage Sheet printed on transparency film! It includes a few of the images from Laura's larger Stained Glass Windows Collage Sheet (plus a few more images only available on this half-page collage sheet).
More info about the new kit is on the Mini Conservatory Kit page. And remember to scroll down to the Giveaway on this page for a chance to win a kit plus lots of extras! Plus between here and there, a big bunch of pretty coordinating papers & trims!
On to the artwork! Oh… this is so pretty! Design Team Member Laura Carson has made a Miniature Conservatory (with faux stained glass windows) that would be beautiful sitting on a windowsill.
Laura used 2 of the Mini Conservatory Accordion Books (and cut the panels apart so she could sandwich stained glass "windows" between each of the 2 matching panels). She then used metal hinges to hinge the panels together.
Laura decorated both sides (the photos above and below show different sides — the far right brick paper on the photo above is the same end panel as the far left panel on the wider photo below).
More info and photos in Laura's blog post, and here's a link to see all her supplies.


Highlights from the New Goodies! – ALL on Sale!


Architextures – Iron Fence

Ending TOMORROW: Vintage Paper Scraps Sale and FREE Gift Kit!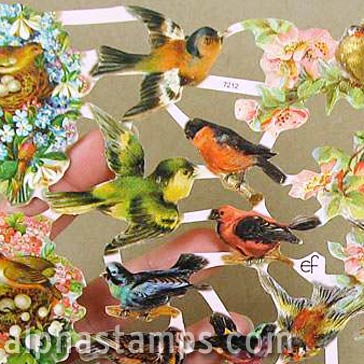 Oooh! We've just restocked EVERYTHING in the reproduction Vintage Paper Scraps Section — and put them on sale! Just a couple of the new items are shown either at right or below… there are now 15 lovely designs to choose from!
See them all… and the sale ends MONDAY night, June 4th (2018).
FREE Gift Kit!
ALL orders, now through MONDAY night, June 4th (2018) will receive a Mini Vintage Sewing Gift Kit FREE! I picked out a few items inspired by Nichola's artwork from Thursday's newsletter (and I'm showing a little close-up of her table below at right): a mix of spools (mini and small) and that wooden bead Nichola used as a table top, plus some colorful Flower Stamen. PLUS a few snips from the new Vintage Paper Scraps! Some of the images are larger roses so you may get 1 large flower (or a large butterfly)… or 2 smallish cuts. But all the options are beautiful!


Hooray for the Mini Conservatory Kit Giveaway
Before I explain what's in today's Giveaway, I just had to show off another photo of Laura's beautiful project! And I'm going to focus on supplies in this photo.
So back to this Giveaway: Beside one of the New Mini Conservatory Kits (that includes FIVE items all by itself), this Giveaway also includes more things Laura used:
– New Mini Conservatory Garden Collage Sheet
– Mini Wrought Iron Flourishes Set
– Architextures – Iron Fence
– Tiny Paper Roses – Medium Pink
– Stitched Leaf Ribbon – Moss Green

To enter the Mini Conservatory Kit Giveaway drawing all you have to do is leave a comment BELOW on this blog post TODAY or TOMORROW (the deadline is 11:59 pm PST, Monday Night, June 4, 2018).
AND tell me: What's your favorite panel from Laura's project? Or favorite technique? Are you going to try a similar stained glass project?
Don't forget to leave your (hello!) correct email address, too, so I can contact the winner; your email address does not need to be made public. Note: I'm offering free shipping, too, but only within the USA. International shipping will still apply.
Please be patient! Spammers try to post crap here a lot so comments are moderated. So if you don't see your post in the comments section, be patient and check back in a few hours before re-posting it, please!
After midnight, I'll randomly pick the winner (via Random.org).
Hey, who won the Wee Sewist's Shrine Giveaway from Thursday's newsletter? That would be Kat Cashwell! Congrats! Check your email for info.
Posted by Leslie, June 3rd, 2018