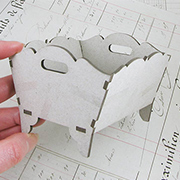 Ah… a sweet treat today: beautiful floral artwork by TWO Design Team Members! Starting with a happy ATC tote by Lora Mahaffey (yes, I think that green plaid says "happy").
Beside the inspired use of the papers from the Spring Market 6×6 Paper Pad on an ATC Tote Box, I love the ATCs Lora made with the Vintage Seed Catalog Collage Sheets!
This is such a pretty project… another good candidate for a Mother's Day gift.
Here's a link to everything Lora used.
And don't forget to visit Lora's blog post, as she has step-by-step photos on how to decorate the tote box!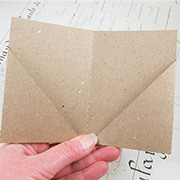 Miz Bella (Kimberly Ayers) has created such a rich, moody set of ATCs in an ATC Folder (I love the projects Bella makes with an Art Nouveau theme).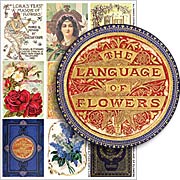 That green floral pattern (the back side of the Cottontail Springtime Scrapbook Paper) is perfect for this theme.
Beside the photos of the cover and inside pockets below, there's another photo of the ATC Ticket Journal (tucked into the left pocket) down in the Giveaway section — where you can enter to win EVERYTHING Bella used!
Here's a link to everything in Bella's supply list AND a link to her blog post.
And between here and the Giveaway, don't forget to check out the new items AND the sale and free gift both ending tomorrow night!


Ending TOMORROW: ALL Metal Filigree is 25% off and FREE Tiny Tote!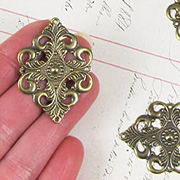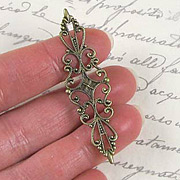 In honor of that pretty, new Bronze Harp Filigree (at far right), ALL of the Metal Filigree is ON SALE!
Over 60 options!
The sale ends MONDAY night, April 23rd 2018.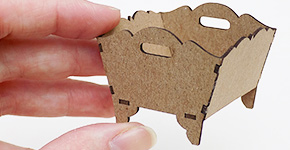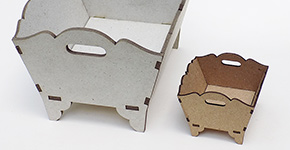 And there's a FREE Tiny Tote Box!! ALL orders, now through Monday night, April 23rd (2018) will receive ONE of the new Tiny Tote Boxes (normally sold in sets of 2) FREE!
This version is 1-1/2″ tall by 1-3/4″ wide by 1-1/2″ deep (shown next to the original size in the photo at left). More info (and adorable artwork by Shannon Cooper) is in Thursday's newsletter.

Hooray for the Many Happy Hours Giveaway!
That is the quote on one of the fairy ATCs ("I post a letter in the flowers to wish you many happy hours.") And isn't that ATC Ticket Journal beautiful!
Yes, I said it! EVERYTHING in Bella's Supply List is included in today's Giveaway!
I'm only highlighting a couple of the TEN spiffy items in the supply list/Giveaway:
– Pink Fairies ATCs Collage Sheet
– The Language of Flowers Collage Sheet
Just click on this Supply List link for photos and links to everything in Bella's artwork, which are also all included in the Giveaway!
Note: As there is an April Kit included in the Giveaway, any items that are part of the kit (and also listed separately in the supply list) will only be included once.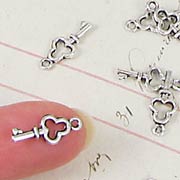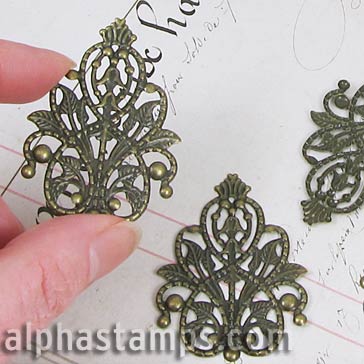 And a couple extra items not used in Bella's project are also in the Giveaway:
– A set of the back in stock Tiny Antique Silver Keys
– New Bronze Harp Filigree (it would look perfect with the style of Bella's ATCs — and it's part of the Filigree Sale!)
To enter the Many Happy Hours Giveaway drawing all you have to do is leave a comment BELOW on this blog post TODAY or TOMORROW (the deadline is 11:59 pm PST, Monday Night, April 23, 2018).
AND tell me: What style will you use to decorate your ATC Ticket Journal? Or maybe what images, if not a specific style: flowers? fairies? cats? Remember the lovely ladies Laura Carson decorated her ATC Ticket Journal with?
Don't forget to leave your (hello!) correct email address, too, so I can contact the winner; your email address does not need to be made public. Note: I'm offering free shipping, too, but only within the USA. International shipping will still apply.
Please be patient! Spammers try to post crap here a lot so comments are moderated. So if you don't see your post in the comments section, be patient and check back in a few hours before re-posting it, please!
After midnight, I'll randomly pick the winner (via Random.org).
Hey, who won the Tiny Totes & Flowers Too Giveaway from Thursday's newsletter? That would be Sylvia L! Congrats! Check your email for info.

NOTE: Last call for Lisa Contilli to reply re: her Giveaway prize! If you don't reply to our emails, you won't get your prize!

Posted by Leslie, April 22nd, 2018