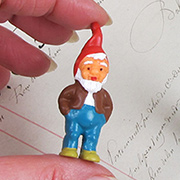 Who says it's too late for Easter artwork?! Actually, these fairy and gnome projects by Design Team Member Nichola Battilana
are so sweet and Spring-y that I don't think you'd even notice there's an Easter-egg-and-chocolate-bunny theme to the cut-out lids used in them.
Starting with the new 2 Inch Gnome that Nichola used at left (isn't he adorable?) inside a Mini Shadowbox – 2×3, with a Mini Shadowbox Lid – Easter Egg (and a star and green paper). So cute, and quick to make.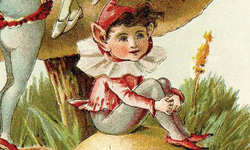 Moving on to a trio of fairy-themed pieces (see the wide photo below)… I just love these! They are not as deep as the gnome shadowbox (Nichola used the flat Easter Covers for Mini Shadowboxes over chipboard, adding some foam to provide a bit of depth).
The main images of fairies are from the Pink Children's Theatre Collage Sheet, from the February kit.
Sheet Moss and paper flowers and leaves are tucked into the edges.
And finally fussy cut paper butterflies from the English Fairy Garden Collage Sheet are added! So cute!
Read more (and see more photos) in Nichola's blog post. You can also see the full supply list. And don't forget to scroll down in this newsletter for a close-up in the Giveaway!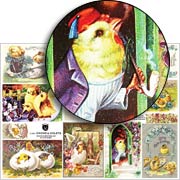 Next up: We're finishing up our series of Easter shadowboxes, with 2 by Design Team Coordinator Miz Bella (Kimberly Ayers)!
I picked out the shadowbox Mr. Chick Adeez Morning Walk in the photo at left:
A super-duper easy box to put together: cover box and lid with paper (or paint it if you'd rather), choose your background image. Before gluing it in, be sure to double check that when you look through the egg opening, you see the part of the image that you want to show through.
Bella used the same Easter Covers for Mini Shadowboxes as in Nichola's fairies above, but used over a mini shadowbox instead of flat chipboard.
Read more (and see the other shadowbox, too) in Bella's blog post. You can also see the supply list for the little box at left.


New Sale and New FREE Gift — All About Fairies!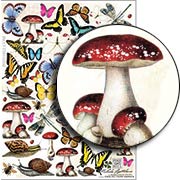 Everything in the Fairies Collage Sheets section is on sale!
30 options, including the English Fairy Garden Collage Sheet at right (also used in Nichola's project above).
Go check it out!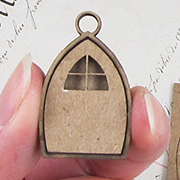 And there's a new Fairy Charm Mini Gift Kit!! You'll receive ONE of the new Chipboard Fairy Door Charms (normally sold in sets of 2) AND a custom mini collage sheet (shown at left) with tiny fairies that could be used inside! Note: the images are 1″ x 1″ size, so could also work with 25mm diameter settings or cabs, too.
FREE with ALL orders, now through Monday night, April 9 (2018)!

Hooray for the Winged Fairy Giveaway!
I'm highlighting everything used in that lovely fairy at left, by Nichola. (And yes, everything I'm mentioning here is in today's Giveaway.)
– Easter Covers for Mini Shadowboxes – Set of 4
– Pink Children's Theatre Collage Sheet
– English Fairy Garden Collage Sheet
– Sheet Moss
– Mini Rose Buds – Red Yellow Variegated (a substitute)
– Gold & White Lace Clear Sticker Sheet
– Romantique Symphony Scrapbook Paper (a substitute for the sheet music)
– Chesterville Bretton Scrapbook Paper (a substitute for the mottly paper on the front)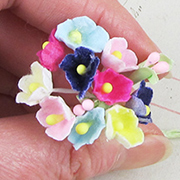 Plus one of the Fairy Charm Mini Gift Kits! And a set of the new Small Felt Flowers – Multicolor!
To enter the Winged Fairy Giveaway drawing all you have to do is leave a comment BELOW on this blog post TODAY or TOMORROW (the deadline is 11:59 pm PST, Friday Night, April 6, 2018).
AND tell me: What will you make with these goodies? There are lots of images of vintage children, fairies, mushrooms, butterflies in those collage sheets… and the "inchies" in the gift kit's collage sheet… ? And you'd have 4 different shadowbox covers, so maybe another cut-out window shape?
Don't forget to leave your (hello! correct) email address, too, so I can contact the winner; your email address does not need to be made public. Note: I'm offering free shipping, too, but only within the USA. International shipping will still apply.
Please be patient! Spammers try to post crap here a lot so comments are moderated. So if you don't see your post in the comments section, be patient and check back in a few hours before re-posting it, please!
After midnight, I'll randomly pick the winner (via Random.org).
Hey, who won the Spring Flowers Kit Giveaway from Sunday's newsletter? That would be Carol Slowik! Congrats! Check your email for info.
NOTE: Last call for Carolyn Sullivan to reply re: her Giveaway prize! If you don't reply to our emails, you won't get your prize!

Posted by Leslie, April 5th, 2018