Oooh… what a treat today! We have a pretty, flower-filled room box by Teri Calia AND the sweetest little bunny by Lora Mahaffey!
Yes, that photo at right is a bit small, but i just wanted to give you an overview of Teri's project, and to show you the scale (with her hand in the lower right of the photo).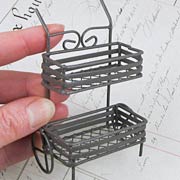 I asked Teri if she could make a quick sample with the new Rustic Wire Cart with 2 Baskets and she created this wonderful corner room box in almost no time — crazy, I know!
A little tour of the larger group of photos below:
– Teri filled the wire cart with roses, rose buds, moss & tiny ferns (and there's a tiny cat hiding in there, too… more on him/her is below)
– I love the aged look of the bird house in the top left corner, with one of the new chickadees on top
– The Light Pink Hyacinth are potted in a Clay Planter (with one of the recently-new swans sitting nearby)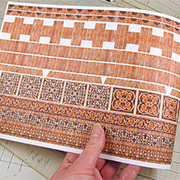 – The Embossed Trim for 1:12 Bricks is shown in the close-up at top right
– Love the seashell border to the grass and tile path (and the doggy, too)!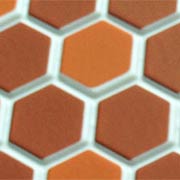 I asked Teri about that tile path, as the floor tiles come with a lighter grout color. She replied "To paint the tile I used Dawn Dish Liquid and a soft toothbrush to give it a good scrub and remove any oil from the manufacturing process. Then painted with acrylic paint, wiping back the paint in some areas with a paper towel to lighten the paint coverage."
Before we move on to our second project, here's a link to everything in Teri's supply list.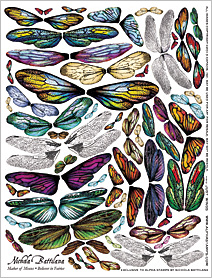 Yes, we are getting close to Easter. But I bet that adorable bunny (with wings!) would find a place on your shelf long after Easter! (See the next group of wide photos below.)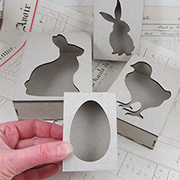 I included a close-up of the shadowbox at an angle (in the top right) so you can just barely make out the wooden disk (button? tiny spool?) that the bunny is attached to (to keep him hovering off the ground and to give him dimension). Also, in the lower right you can see how Lora built up the background with chipboard underneath of a strip of the Double Dot Powder Blue Scrapbook Paper (I love all the doodling Lora does with stickles, too!)
Note: Lora made TWO shadowboxes, so be sure to visit her blog post to see the second creation and to read more tips.
Here's a link to all the supplies Lora used (in both of her shadowboxes).

Mother Goose Collage Sheet Sale plus a NEW collage sheet!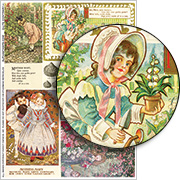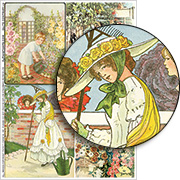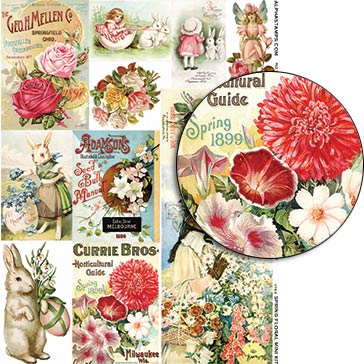 Everything in the Mother Goose Collage Sheet section is on sale! (That includes two updated Quite Contrary Collage Sheets — perfect for a spring garden project!)
Over 20 options! Go check it out!
And continuing the FREE Collage Sheet announced in Thursday's newsletter!! The Spring Floral Mini Kit Collage Sheet shown at left is FREE with ALL orders, now through Monday night, March 26 (2018)!

Posted by Leslie, March 25th, 2018