Eek! So much cuteness today! We've got artwork from 2 Design Team Members, plus some (new) cute retro bunnies and tiny creatures (and props) that could work for fairy garden or Easter projects.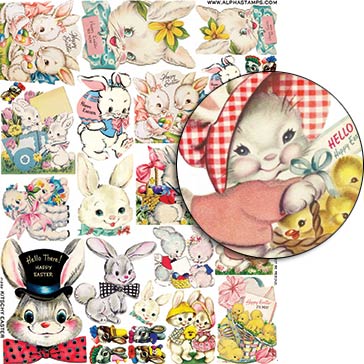 Starting with the new Kitschy Easter Collage Sheet: Ridiculously cute bunnies, chicks & lambs! A variety of sizes but most will fit in the Mini Shadowbox – 2×3 (the smallest box, that's also in the Easter Egg Shadowbox Kit).
On to today's first project: Bunny Train for Spring. See the wide photo below… Oh my! This is so sweet! Love the whole look and feel of this kitschy train by Shannon Cooper!
What do you do with two afternoons and the most adorable kitschy Easter collage sheet on the planet? You make a Bunny Train, that's what you do!
All of the cars have a "turf" base dotted with mini tulips, glittered pom pom wheels, and a scalloped awning made from a Mini Shadowbox Lid.
Read more (and see more photos) in Shannon's blog post. You can also see the full supply list. And don't forget to scroll down in this newsletter for a close-up in the Giveaway!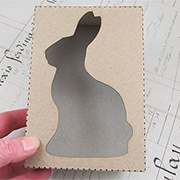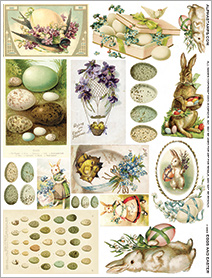 Next up: A whole menagerie of Easter shadowboxes, by Design Team Member Rhonda Secrist Thomas!
I just picked out 2 in the photo below:
– a gnome framed in the Easter Egg Mini Shadowbox Lid (covered with pretty green paper from the Cottontail 6×6 Paper Pad), and
– a larger bunny box, filled with more bunnies (with a little basket inside, filled with tiny eggs).
Here's more info about each, written by Rhonda:
This is my little gnome friend (left side of photo below), sitting inside of a vintage tin. How do you like his mushroom stool?
The bunny on the box on the right (below) made me think CHOCOLATE and getting a delicious bunny every year. So I decided to make the outside of the box look like chocolate using paint and brown embossing powder.

Read more (and see more photos) in Rhonda's blog post. You can also see the full supply list.


New Sale and New FREE Gift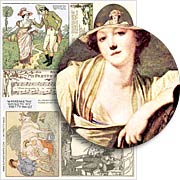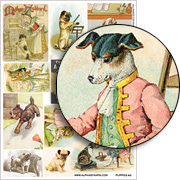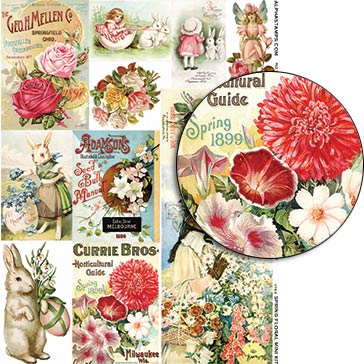 Everything in the Mother Goose section is on sale at 50% off — the sale ends MONDAY night, March 26th 2018. (That includes the two updated Quite Contrary Collage Sheets noted above!)
Over 20 options!
Go check it out!

And there's a new FREE Collage Sheet!! The Spring Floral Mini Kit Collage Sheet shown at left is FREE with ALL orders, now through Monday night, March 26 (2018)! More info
All-digital orders will also receive the new collage sheet, as a hi-res pdf file!


Hooray for the Bunny Train Giveaway!
Proceeding with more details from Shannon's cute project! (And yes, everything I'm mentioning here is in today's Giveaway.)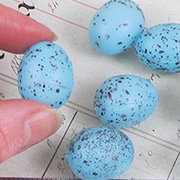 – Mini Shadowbox – 3×4.5
– Kitschy Easter Collage Sheet New!
– Mini Shadowbox Lid – Chick (Clever girl! Shannon cut apart the lid and used the scalloped sides as "awnings" on her 3 train cars!)
– Blue Speckled Plastic Eggs (one is under the bunny made from chenille stems and a pom pom)
– Mini Wooden Crate – Unfinished (under that blue egg)

– Easter Banners Collage Sheet (the label on that crate, plus the "JOY" banner shown above on another of the train cars)
– Red, Ivory & Pink Patterns Scrapbook Paper Set (you can just see the pink stripes on the inside of the box, on the right side of the photo)
– Double Dot Passion Fruit Pink Scrapbook Paper
– 1-1/4 Inch Wooden Wheels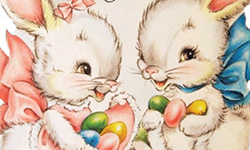 To enter the Bunny Train Giveaway drawing all you have to do is leave a comment BELOW on this blog post TODAY or TOMORROW (the deadline is 11:59 pm PST, Friday Night, March 23, 2018).
AND tell me: What will you make with these goodies? A bunny train? Other plans for the kitschy images from that new collage sheet?
Don't forget to leave your (hello! correct) email address, too, so I can contact the winner; your email address does not need to be made public. Note: I'm offering free shipping, too, but only within the USA. International shipping will still apply.
Please be patient! Spammers try to post crap here a lot so comments are moderated. So if you don't see your post in the comments section, be patient and check back in a few hours before re-posting it, please!
After midnight, I'll randomly pick the winner (via Random.org).
Hey, who won the Tiny Punch & Judy Theatre Giveaway from Sunday's newsletter? That would be Judy Goodwin! Congrats! Check your email for info.

Posted by Leslie, March 22nd, 2018