We're diving into today's fab new artwork (and TWO Giveaways) first! But be sure to scroll down 'cause the Alice in Wonderland sale and Alice-themed FREE gift kit are revisited below!

The Shakespeare Theater Presents A Midsummer's Night Dream by Laura Carson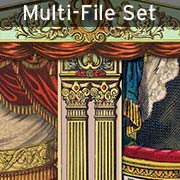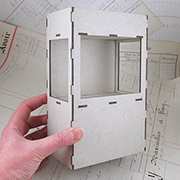 Design Team Member Laura Carson has made a colorful (and fancy) paper theatre, The Shakespeare Theater Presents A Midsummer's Night Dream, from the Punch & Judy Theatre (in the center, along with an Arch Top Theatre Facade), plus a big bunch of images from collage sheets and print-outs of digital image sets.
The center of the theatre is the 3D item! The box seat on the sides are flat chipboard and paper. Laura bent the 2 print-outs at the bottom of the box seats so they would bow out a little, giving the appearance that the sides are as dimensional as the center!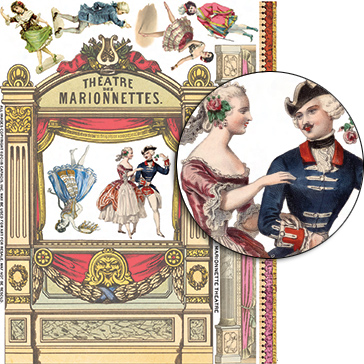 The Marionnette Theatre Collage Sheet facade (see pic at right) that covers the entire height of the center stage is the same image that Lora Mahaffey used in last week's Vampire Theatre. (It looks completely different, doesn't it?)
See below for a close-up of the stage on the left, and " before and after" photos on the right, showing how Laura used images from the Large Theatre Curtains, Columns & Box Seats Digital Set to layer over parts of the facade (she also used the column from that set 4 times, and adding the trims on the bottom of the center facade helps unite the whole design.
See more in Laura's blog post (with more tips on building her theatre), her supply list, and another photo (with another feature highlighted) down in the Giveaway! But before you run off, jump down below the photo to learn how you could win Laura's theatre itself!


Oooh! Today we have a special treat for the Giveaway drawing: Laura Carson is graciously giving away her Shakespeare Theater!
All orders over $50 placed Sunday through Tuesday (February 25-27, 2018) will automatically be entered in the drawing.
Note: There is a second drawing below (that everyone can enter, whether or not you place an order). Both winners will be announced in Thursday's newsletter.
Thanks, Laura!


Hooray for the Shakespeare Theater Supplies Giveaway
Oooh! Ahh! Another highlight from this theatre! (Actually 2! I've picked out the addition of fairies and aqua curtains in the photo at left, and there's a photo of the back of the theatre below.)
Laura used the aqua curtains with gold fringe from the Gatefold Square Shrine Curtains Collage Sheet (instead of the red curtains that came with the theatre facade). From that same collage sheet, she used wider aqua curtains to cover over the open sides of the Punch & Judy Theatre (see the large photo of the back, below at left).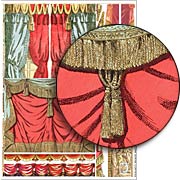 I'm including all of these goodies from Laura's supply list in today's Giveaway:
– Punch & Judy Theatre
– Arch Top Theatre Facade
– Heartland Scrapbook Paper – Love Song Serenade
– The Marionettes Theatre Collage Sheet
– Gatefold Square Shrine Curtains Collage Sheet
– Nature's Crowns Collage Sheet
– Butterflies & Moths Collage Sheet
– 1830s Gents & Ladies Fashion #1 Collage Sheets
– Fairy Ballerinas Collage Sheet
– Mischievous Cupid Collage Sheet
– Forest Theatre Backdrops Collage Sheet
– Rustic Trees & Foliage Collage Sheet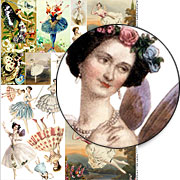 Whew! Just click this link to see all of those items (along with everything else in Laura's supply list.
AND I'm including one of the Mini Alice Accordion Book Gift Kits announced in last Thursday's newsletter — and that FREE gift is still on offer! All orders over $20.00 now through Monday night (February 26, 2018) will receive this special gift. More info (and see below for a wide preview photo).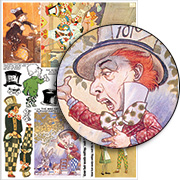 SPEAKING OF ALICE: ALL Alice in Wonderland Collage Sheets are on sale! Hooray! There are tons of options in the Alice section! The sale ends tomorrow night, February 26th (2018).
See all of the Alice Collage Sheets.
To enter the Shakespeare Theater Supplies Giveaway drawing all you have to do is leave a comment BELOW on this blog post TODAY or TOMORROW (the deadline is 11:59 pm PST, Monday Night, February 26, 2018).
AND tell me: Midsummer Night's Dream? Another play on the stage? Some creation of your own with fairy ballerinas? Maybe a scene from Alice in Wonderland? What would you make from this group of goodies?
Don't forget to leave your (hello! correct) email address, too, so I can contact the winner; your email address does not need to be made public. Note: I'm offering free shipping, too, but only within the USA. International shipping will still apply.
Please be patient! Spammers try to post crap here a lot so comments are moderated. So if you don't see your post in the comments section, be patient and check back in a few hours before re-posting it, please!
After midnight, I'll randomly pick the winner (via Random.org).
Hey, who won the Tiny Alice Giveaway from Thursday's newsletter? That would be Lisa N! Congrats! Check your email for info.

Posted by Leslie, February 25th, 2018