What? A Shipping Sale? As this is a holiday weekend here in the US: $2.95 shipping for orders over $50 (for orders shipping to USA) now through Monday night, February 19th! Plus shipping is always free on orders over $100!

Birds Collage Sheets 50% off!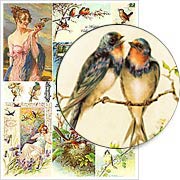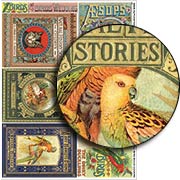 Before we get to the pretty artwork, new FREE gift and new supplies: a new sale!
I just put ALL Birds Collage Sheets on sale at 50% off! There's a bit of a birds theme today, inspired by the new artwork.
A little early Spring pick-me-up: Birds! From colorful to odd to sweet!
The sale will continue through Monday night, February 19th. Go check them out!


Sophronia Tries Forest Bathing by Miz Bella (Kimberly Ayers)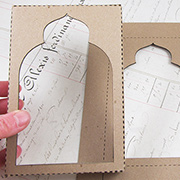 This is an easy project — and pretty (blingy and pretty is not often successful!) — and (of course, from Bella): it has a witty backstory.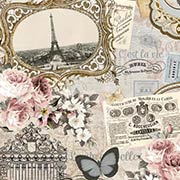 Forest Bathing, or "shinrin-yoku" has many benefits to one's health including lowered blood pressure, blood glucose levels, and stress hormones. Sophronia is taking it to the next level by actually bathing in the forest because in my world of make believe, that's how its done.
The base of the project is a 4×6 Shadowbox lined with Romantique Parisian Scrapbook Paper. I took Gold Stitched Leaf Ribbon and glued them onto the branches so that it looks like the birds are sitting on a "gold" branch.
My favorite part of the box is the "bubble" bath! I used the Tiny Flat Back Pearls and glued them where I thought bubbles would be in the bathtub, overflowing onto the mossy forest floor.
Here's a link to Bella's supply list. Note: see the Giveaway below for a chance to win everything in the supply list! And see more photos (and story) on Bella's blog post.


New A Little Birdie/Happy Accident FREE Gift Kit
An accidental Happy Accident? Lucky for you, we have 2 extra packages of the 4 sheets in the Happy Accident Scrapbook Paper Set. And one of those is nicely designed with miniature prints on the back (four 6×6 images on one 12×12 sheet)… so I've cut all of them into 6″ x 6″ squares and you'll get FOUR mini sheets (mixed up which sheets… but they're lovely, heavy paper so they're all beautiful)!
A couple of the mini prints include bird ephemera, so I added a few birds (and a cage and a branch):
– Wood Bird Cages (I'm including one from this mixed set, a random pick)
– A set of Small Brass Swallow Charms (on clearance sale!)
– Brass Branch with 6 Leaves
– Blue Resin Sparrow (now sold out except in this kit)
ALL ORDERS on Thursday through Monday, February 15 ‒ 19 (2018) will receive one of these A Little Birdie/Happy Accident Gift Kits FREE!


Hooray for the Forest Bathing Giveaway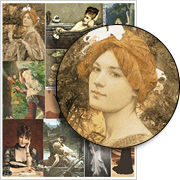 Yes, I said it! EVERYTHING in Bella's Sophronia Tries Forest Bathing Supply List is included in today's Giveaway!
I'm only highlighting a couple of the TEN spiffy items in the supply list/Giveaway:
– 3mm Rhinestone Chain – Green & Blue Mix (looks great surrounded the Taj Mahal window)
– Shadowbox Lid – Taj Mahal
– Tiny Mixed Size Flat-Back Pearls (bubbles!)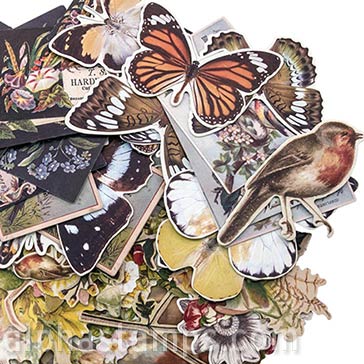 Just click on this Supply List link for photos and links to everything in Bella's artwork, which are also all included in the Giveaway!
Bonus #1: NEW Tim Holtz Botanical Die Cuts
I bet more than one of these would be fun to use in the background (or front and center) of a project using the shadowbox and lid.
Bonus #2: One of the A Little Birdie/Happy Accident FREE Gift Kits!
To enter the Forest Bathing Giveaway drawing all you have to do is leave a comment BELOW on this blog post TODAY or TOMORROW (the deadline is 11:59 pm PST, Friday Night, February 16, 2018).
AND tell me: What will you make from these supplies?
Don't forget to leave your (hello! correct) email address, too, so I can contact the winner; your email address does not need to be made public. Note: I'm offering free shipping, too, but only within the USA. International shipping will still apply.
Please be patient! Spammers try to post crap here a lot so comments are moderated. So if you don't see your post in the comments section, be patient and check back in a few hours before re-posting it, please!
After midnight, I'll randomly pick the winner (via Random.org).
Hey, who won the Snarky Valentine Giveaway from Sunday's newsletter? That would be Jennifer J! Congrats! Check your email for info.
Posted by Leslie, February 15th, 2018