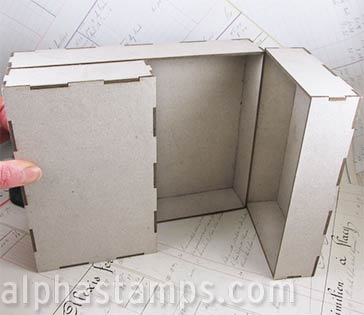 Oooh! I love all the extravagant, theatrical goodness when we have a project by the Glitter King himself: Tristan Robin Blakeman! (Psst: that's a link to a list of beautiful projects Tristan has made for us in the past.)
There are 2 new Theatre Cabinets. Tristan suggested a larger shadowbox for a theatre project; one with doors that could double as box seats. Both of these cabinets are 7″ tall and 8-1/2″ wide. And both of them have doors that are 1-1/2″ deep. The only difference is the deeper cabinet has a center shadowbox that is 3-1/2″ deep.
Tristan used the shallower version of the cabinets, but it still looks like a lot of depth as he moved the scenery for each scene (yes, he has multiple "acts" in his Beauty and the Beast Theatre!) out into the foreground.
If you made a similar project with 3D (dollhouse) furniture, using the deeper cabinet would allow you to store your scenery in the closed box when not in use. (Here's a link to Tristan's supply list if you'd like to see the chairs, mirror, etc., he used.)

See the group of photos at left? That's showing the cabinet closed (front and back) and open before any scenery has been added. Pretty spectacular even without the characters!
Note: there is another photo below (in the Giveaway) and more on Tristan's blog post. Plus he includes some video clips from my favorite movie version of the story: Jean Cocteau's 1946 La Belle et La Bête.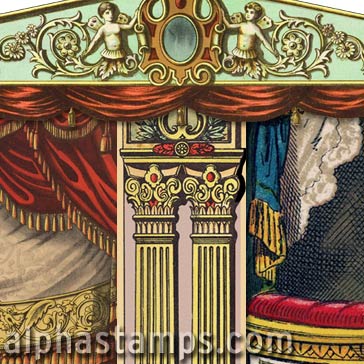 I made a new (big) set of curtains, headers, box seats & columns to fit these new Theatre Cabinets, but as each curtain pretty much fills an entire printed page, it is only available as a digital download set. There's also a new Wide Aladdin Facade with Columns, a heavy chipboard facade that fits the front of either Theatre Cabinet. It's in the center section of Tristan's theatre, supporting the yellow/gold Aladdin Facade image from the digital images set.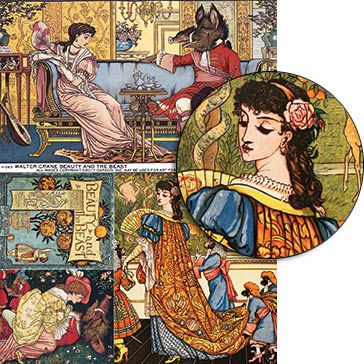 Tristan used lots of papers from the Midnight Masquerade 12×12 Paper Pad. The patterns coordinate swimmingly with all the colors in the new digital set (and with those Walter Crane illustrations). Plus the images in that set are perfect for Mardi Gras projects (Mardi Gras is February 13th this year).
Speaking of paper sets from Graphic45, based on your feedback I've brought back 2 big "Deluxe Collector's Edition" sets from collections we've had in the past: French Country and Botanicabella. Both are filled with beautiful colors and images. And both are on sale!
| | | | |
| --- | --- | --- | --- |
| French Country 12×12 Paper Pad – Deluxe Collector&#39s Edition | | | |

Hooray for the Beauty and the Beast Theatre Giveaway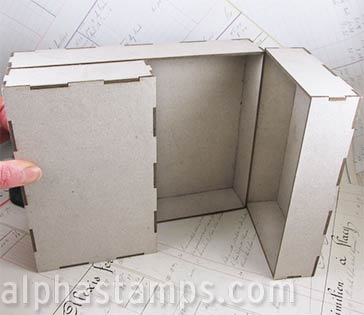 Psst! See below for another of this fabulous project!
Here are all the goodies in the Giveaway (all chosen from Tristan's supply list):
– 7 Inch Tall Theatre Cabinet – 3 Inch Deep
– Wide Aladdin Facade with Columns (in the center section of Tristan's theatre, supporting the yellow/gold Aladdin Facade image)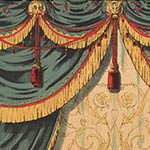 – Large Theatre Curtains, Columns & Box Seats Set Download (NOTE: if the prize winner cannot use the digital set, you can instead choose a printed set of all the digi images — i only have 1 set as they were proof prints. And it's 14 pages long, which is why this is not offered as a collage sheet set.)
– Gold Zig Zag Dresden Borders (all over the front and back)
– Gold Dark Mix Sweeper Fringe (draped across the curtains on the front)
– Oval Latch Set (closure on the outside)
– Walter Crane Beauty and the Beast Collage Sheet
– Taj Mahal Folding Card (the orange screen in the photo below)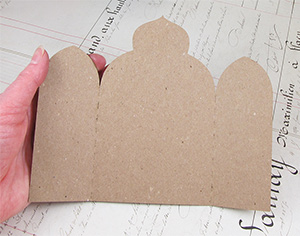 To enter the Beauty and the Beast Theatre Giveaway drawing all you have to do is leave a comment BELOW on this blog post TODAY or TOMORROW (the deadline is 11:59 pm PST, Friday Night, February 9, 2018).
AND tell me: What will you make from these supplies? a theatre? a shadowbox? a cabinet to hold supplies? a giant suitcase? (?)
Don't forget to leave your (hello! correct) email address, too, so I can contact the winner; your email address does not need to be made public. Note: I'm offering free shipping, too, but only within the USA. International shipping will still apply.
Please be patient! Spammers try to post crap here a lot so comments are moderated. So if you don't see your post in the comments section, be patient and check back in a few hours before re-posting it, please!
After midnight, I'll randomly pick the winner (via Random.org).
Hey, who won the Pink Valentine Theatre Kit Giveaway from Sunday's newsletter? That would be Bernadette Ho! Congrats! Check your email for info.

Posted by Leslie, February 8th, 2018