Note: most of the links on this post no longer work, as we moved to a new Web site in 2018. But you can try searching on the same names (as links below) on the new site.
What? Altered tins?! And Dresden? (Yes, some even using both!)
When I think of altered tins (of course), I think of that fabulous and hard-working Design Team Member Kristin Batsel. She makes an amazing array of tins. Beside that cute new one (below at right), I thought these past ones (in styles from circus to Halloween to… randomly odd?) would be a good intro to her altered tin projects AND some encouragement to grab a tiny tin and make something creative.

The Small Madonna Shrine is beautiful and pretty simple: start with a Small Hinged Tin (Kristin probably recycle a "real" mints tin, but this size is pretty close), add some round filigree at the top (and bottom) of the tin, some rosary chain around the outside, and a focal image and you're basically done. It also includes a Gold Dresden Halo… which is a good tie-in to today's new sale: ALL Color Dresden!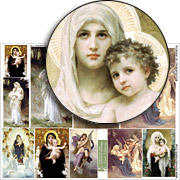 We had the gold/metallic Dresden trims on sale a few weeks ago, but with the new white and pink wings being announced today (and who knows… Valentine's Day and Easter projects coming) I just put all the color (and white) Dresden trims on sale at 25% off! The sale will continue through Monday night, January 29th, but some are in limited quantities so catch 'em quick!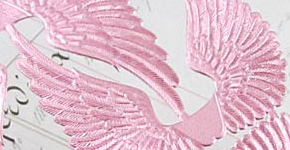 Note: you can read more about Kristin's shrine on her blog. And check the Giveaway below for lots of Dresden & tins you can win!

NEW Acrylic Heart Mix FREE Gift Kit!
Wow. We have a new free gift with all orders starting today that is sooo PINK (and red).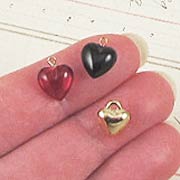 There are tiny heart charms (with a brass loop — and on sale), mixed color matte hearts (on sale), flat-back hearts in multiple shades of pink (and red) — some are faceted and some are flat. But everything is acrylic (and heart shaped).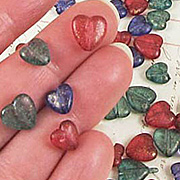 ALL ORDERS on Thursday through Monday, January 25 ‒ 29 (2018) will receive one of these Acrylic Heart Mix Gift Kits FREE! (A baggie with about the quantity as is shown in my hand.)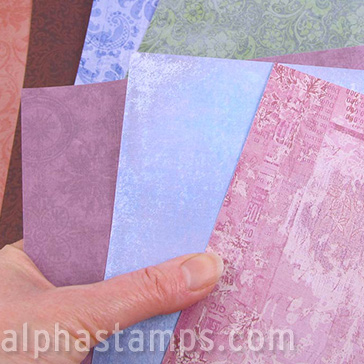 Hooray for the Very Pink Giveaway!
What? I didn't even talk about the new papers! At right is a photo from the new Old World 8×8 Paper Stack — a HUGE stack, and I'm including half of one in today's Giveaway! (That's still 24 sheets!)
Take a deep breath: here are more goodies in the Giveaway:
– Small Hinged Tin (from Kristin's Madonna shrine)
– A larger Blank Altoids Tin (used in Kristin's Halloween tin shown above)

– All 3 of the new miniature cakes
– Sheet of Pink Dresden Wings (new & part of the Dresden sale)
– New 8mm Round Swirl Beads – Mixed Colors
– Gold Dresden Halo (from Kristin's Madonna shrine)
– Bouguereau #4 (Angels) Collage Sheet (from Kristin's Madonna shrine)
– White Dresden Border Sampler Set (part of the Dresden sale)
– Altoids Tin Insert Frames – Wrought Iron (in Kristin's Halloween tin shown above, and fits the Altoids tin also in the Giveaway!)
Plus a bonus: one of the Acrylic Heart Mix Gift Kits.
And a Small Antique 3D Gold Crown, back in stock. Whew!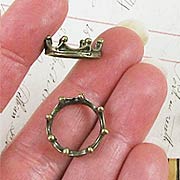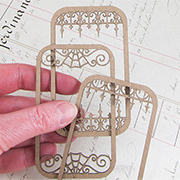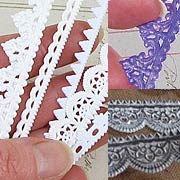 To enter the Very Pink Giveaway drawing all you have to do is leave a comment BELOW on this blog post TODAY or TOMORROW (the deadline is 11:59 pm PST, Friday Night, January 26, 2018).
AND tell me: A Valentine's Day tin? Halloween? Easter? What will you make from these supplies?
Don't forget to leave your (hello! correct) email address, too, so I can contact the winner; your email address does not need to be made public. Note: I'm offering free shipping, too, but only within the USA. International shipping will still apply.
Please be patient! Spammers try to post crap here a lot so comments are moderated. So if you don't see your post in the comments section, be patient and check back in a few hours before re-posting it, please!
Hey, who won the Winter Spool & Shadowbox Giveaway from Sunday's newsletter? That would be Barbara Carter! Congrats! Check your email for info.
Posted by Leslie, January 25th, 2018