Oooh! Ready for some sparkly, glittery, snowy new things? I hope we're not making you feel cold. The Snow Queen artwork is soooo pretty, I hope you'll turn up the heat and enjoy!
Kay Meets the Snow Queen by Design Team Member Shannon Cooper!
This is so beautiful! Check the wide photo below for the whole project plus a close-up of some crackly (colorful!) ice Shannon created, and a preview of the tutorial from Shannon's blog post.
Shannon used the Vintage Winter 6×6 Paper Pad, shown at right. I love the subtle colors, and the same designs being printed in brighter and more faded versions… perfect for using on the front & back of a project. (Beside the loverly shadowbox, Shannon also created a second project using this paper, which is shown down in the Giveaway section — and you could win everything from BOTH of her supply lists!)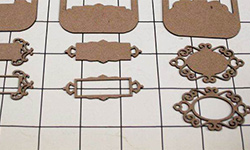 After assembling the shadowbox, I papered the inside using new Vintage Winter 6×6 Paper Pad, slathered a thick layer of Dimensional Snow along the bottom, then stuck glittery trees (from a silver juniper pick) in the snow. The snow was sprinkled with fine glitter and a besparkled Snow Queen and Kay were added while the dimensional snow was wet. I made a bass wood trim frame for the Taj Mahal card and gessoed the whole thing.
Note: the glittered pick that Shannon used is sold out, BUT there are 4 new glittered picks being announced today (and 2 are included in the Giveaway)!
The pretty Snowflake Border made nice corner bits and I glued on a few Tiny Flat Back Pearls before splotching on some crackle medium here and there. When that dried, I mixed blue and purple Distress Ink with water and painted over the crackle medium. It reminded me of ice or the hobgoblin's cracked mirror from The Snow Queen.
Read more in Shannon's blog post and/or see everything from her Kay Meets the Snow Queen supply list.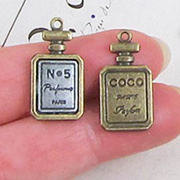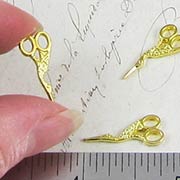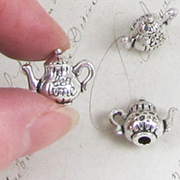 Reminder: ALL Household Charms are on Sale at 40% Off!
That includes all kinds of little props: teapots, scissors, clocks, perfume bottles (includng some new ones announced Thursday).
The sale ends TOMORROW night, January 22nd!

Reminder: FREE Gift Kit with all orders ends Tomorrow Night: Teapot for Alice!
As teapots always remind me of Alice (and teapots are on sale in the Household Charms Section), this gift announced in Thursday's newsletter is still on offer!
Starting with the new Transparent Teapot Charms (which are also part of the 40% off sale)! So many pretty colors! You'll get a randomly chosen teapot… Plus, I've made a new mini collage sheet with a bunch of characters from the teaparty in Alice in Wonderland (just a portion shown here).
ALL ORDERS through Monday, January 22 (2018) will receive one of these Teapot for Alice Gift Kits FREE!

Hooray for the Winter Spool & Shadowbox Giveaway!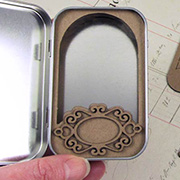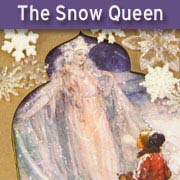 Yes, I said it! EVERYTHING in Shannon's Kay Meets the Snow Queen Supply List is included in today's Giveaway!
I'm only highlighting a few of the TWELVE items in the supply list/Giveaway:
– New Vintage Winter 6×6 Paper Pad (used in both of the projects in the photo below)
– Fairy Tale Frames Altoid Inserts Set (the nameplate on the bottom of the shadowbox)
– The Snow Queen Kit (Wow! that's a big bunch of items all by itself!)

Just click on this Supply List link for photos and links to everything in Shannon's shadowbox artwork, all of which are in the Giveaway!
Note: I'm omitting the collage sheet and and Taj Mahal Window Card from the Giveaway, as they will already be included in The Snow Queen Kit .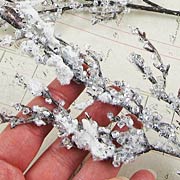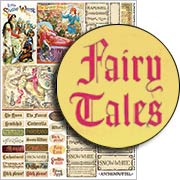 PLUS: I'm including a few more things from that cute spooly girl. (I know… I haven't even mentioned the cute second project Shannon made!)
– Angel Wings Collage Sheet
– Little Imps Collage Sheet
– Gardenias – Mixed Cream Lavender Purple
– Cherry Blossom Cream to Pink Mix
– Silver Glittered Leaf Pick
– Mixed Size Flat-Back Pearls
Here's the Winter Spooly Girl Supply List link for photos and links to everything I just mentioned above!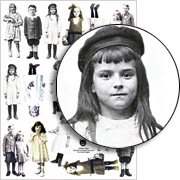 AND a few more additions:
– Fairy Tale Titles Collage Sheet (Sized for the 3 shapely label holders in the Fairy Tale Frames Altoid Inserts Set. Plus a few extras a bit wider that are sized for the front cover of a Blank Altoids Tin.)
– Blank Altoids Tin (of course, as you'll have those titles and extra chipboard label holders)
– Winter Branch with Snow (New — and would be a good substitute for the glittered pick in the shadowbox)
– Curly Ting Ting Branches – Silver Glitter (New — another substitute option)
To enter the Winter Spool & Shadowbox Giveaway drawing all you have to do is leave a comment BELOW on this blog post TODAY or TOMORROW (the deadline is 11:59 pm PST, Monday Night, January 22, 2018).
AND tell me: What will you make? You'll have a lot of wintry options — and a ton of pearls (as both the tiny and mixed sized sets are included)!
Don't forget to leave your (hello! correct) email address, too, so I can contact the winner; your email address does not need to be made public. Note: I'm offering free shipping, too, but only within the USA. International shipping will still apply.
Please be patient! Spammers try to post crap here a lot so comments are moderated. So if you don't see your post in the comments section, be patient and check back in a few hours before re-posting it, please!
After midnight, I'll randomly pick the winner (via Random.org).
Hey, who won A Modern Snow Queen Giveaway from Thursday's newsletter? That would be Kathlene Ford-Walters! Congrats! Check your email for info.
Posted by Leslie, January 21st, 2018